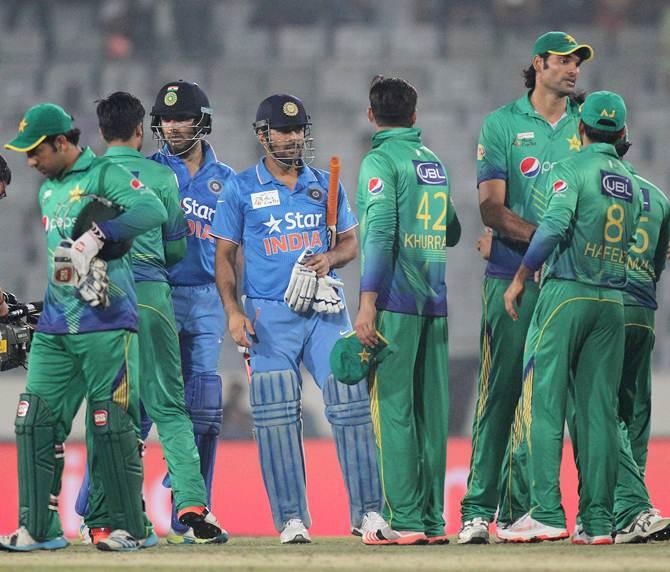 IMAGE: Mahendra Singh Dhoni and Yuvraj Singh are congratulated by the Pakistan players after India win the 2016 Asia Cup match in Bangladesh. Photograph: Solaris Images.
Amid escalating tensions between India and Pakistan, the Board of Cricket Control in India (BCCI) on Friday has requested the International Cricket Council (ICC) to not place the two neighbouring countries in the same group during upcoming international events.
"Keeping in mind that the [Indian] government has adopted a new strategy to isolate Pakistan and in view of the public sentiment in the country, we request ICC not to put India and Pakistan in the same pool of the multi-nation tournaments," the BCCI president Anurag Thakur said.
The issue was discussed on the sidelines of a Special General Meeting in Mumbai against the backdrop of heightened tensions between India and Pakistan in the wake of Uri terror attack and the subsequent cross-LoC surgical strikes carried out by the Indian army.
"If the two countries reach the Semi-finals and have to clash at that time, it is another situation which can't be avoided," Thakur added.
India are scheduled to launch their Champions Trophy title defence against Pakistan when the two Asian powerhouses go head to head at Edgbaston, Birmingham, on June 4, 2017.
The arch-rivals last played during the ICC World T20 earlier this year that saw hosts India beat Pakistan by six wickets.