'Mine and Australian team's natural inclination is to bat first and try and get the score board pressure going'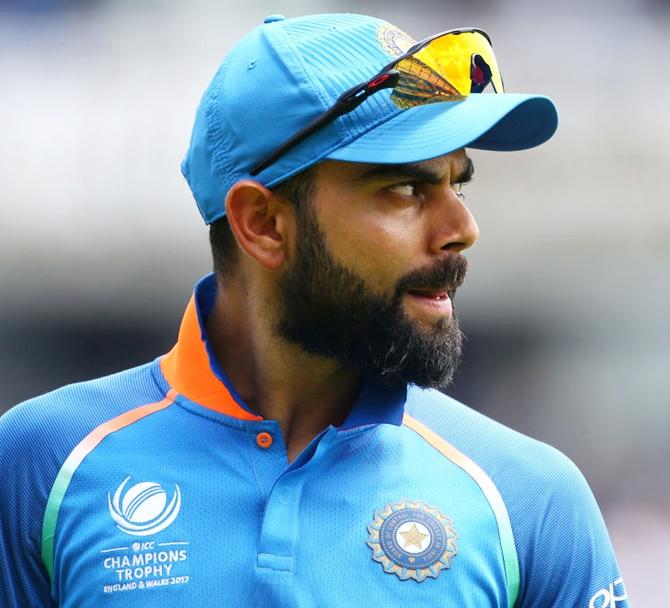 IMAGE: Virat Kohli of India during the ICC Champions Trophy Final match. Photograph: Charlie Crowhurst/Getty Images
Former Australian wicketkeeper-batsman Adam Gilchrist, on Monday, threw his weight behind Virat Kohli following India's heart-wrenching defeat against Pakistan in the Champions Trophy final, saying that the Indian captain, whose transition has been excellent in recent years, should not be judged on the basis of performance in just one game.
Gilchrist, Australia's education ambassador to India, was in the national capital to attend a friendly cricket match on Monday.
When told by some sections of the media that had Mahendra Singh Dhoni been the captain of the current Indian side then the situation would have been quite different, Gilchrist said that the issue about who should lead India had ended a long time ago.
Although Gilchrist admitted that Dhoni is an inspirational leader, he reckoned that Kohli is the right man to lead the side.
"MS Dhoni was a wonderful captain. He is an inspirational leader. But I think Virat's transition has been excellent. You should not judge him on one game. His tournament was brilliant," Gilchrist told reporters.
"He had some really difficult times in England previously. So he had proved that he can play over there. He strikes me as an amazing young man who loves and cherishes and relishes all the responsibilities. So I think he is right man to be leading the team," he added.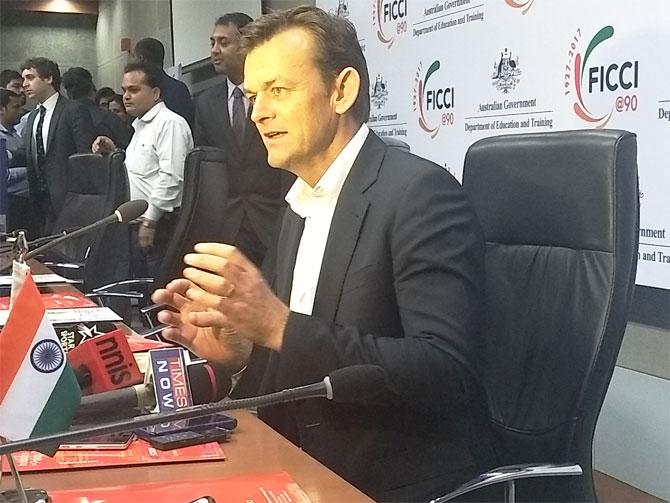 IMAGE: Former Australian captain Adam Gilchrist at a promotional event in New Delhi on Monday. Photograph: FICCI
The former wicketkeeper-batsman, however, called on the Men in Blue to learn from the defeat and use it as manufacturing mode for the future.
Pakistan delivered a splendid all-round performance against India, winning the final by 180 runs at the Oval to lift their maiden Champions Trophy title.
Chasing a challenging total of 339 runs, India was bowled out for 158 runs in 33.3 overs.
Asked if he would have batted first after winning the toss, the legendary keeper said: "Mine and Australian team's natural inclination is to bat first and try and get the score board pressure going. However, having said that, most of the game -- out of 16 games in the tournament, 13 of them have been won by teams while chasing... so you can't really criticise the decision to bowl.
"Besides, India are very comfortable chasing and have done well chasing. You cannot criticise them for that decision. The century maker (Fakhar Zaman) was caught off a no-ball... so that was lot of fine lines," he added.
The former Australian cricketer admitted that the result came as a big surprise.
"It was a big surprise to see the result, but Pakistan is unpredictable. India had a fantastic tournament. But it was quite disappointing not to win the most important game of the tournament, in the finals. That is the limited-overs cricket. Anyone can beat anyone on any given day. And this tournament proved the same," he said.
India will now tour West Indies for a five-match ODI series, followed by a lone T20I.