'The present crop struggles overseas because they are not accustomed to getting wickets with patience and perseverance.'
'I don't know how they will survive when the track is not turning.'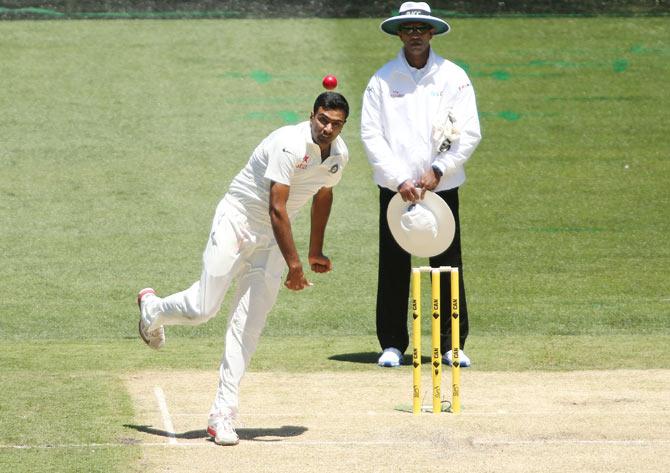 IMAGE: 'Ravichandran Ashwin and Ravindra Jadeja rely on pace and variation, but that is effective only on helpful tracks,' says Romesh Powar.
The flight, loop, dip and spin from a pot-bellied man caught the attention of everyone. He wasn't your quintessential cricketer, but teased batsmen with his slow off-spinners.
Ramesh Powar, who recently retired from first class cricket, briefly donned national colours in the early and middle part of the last decade during which he played two Tests and 31 ODIs. He took six wickets in those Tests -- both against Bangladesh -- while he was relatively better in the shorter format of the game, his fast off-breaks yielding 34 scalps.
A stalwart for the Mumbai team, his 442 first class wickets is testimony to his bowling skills.
One of the few classical spinners to represent India in the last decade, the 37 year old reflects on his career and offers his thoughts on India's current spin trinity: Ravichandran Ashwin, Ravindra Jadeja and Amit Mishra. Aruneel Saddekar/Rediff.com listens in.
Do you look back on your career with satisfaction or a sense of under-achievement?
I have no regrets. I always knew that I wasn't as good as Anil Kumble or Harbhajan Singh, so whatever chances I got I considered them as an opportunity to prove my mettle.

The way I was built, I had to work very hard to compete with the other fit boys.
It was great to make my debut in Pakistan. The atmosphere on the ground when I first stepped in was electrifying.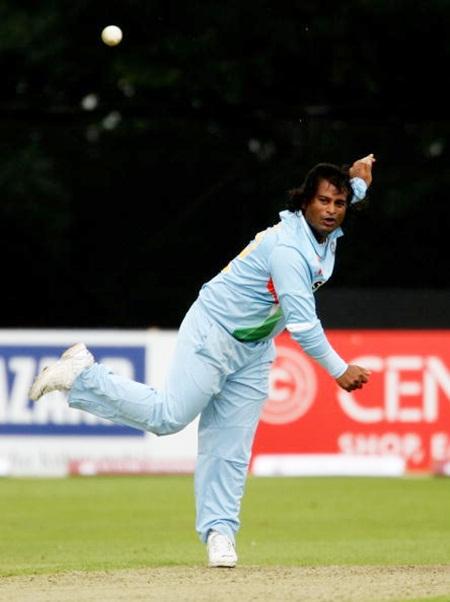 IMAGE: Ramesh Powar in action for India. Photograph: PTI
You were a stalwart in domestic cricket. How do you look at the current crop of spinners in the country?
Frankly, the art of classical spin is fading in the country.
The present stars, like Ravichandran Ashwin and Ravindra Jadeja, rely on pace and variation, but that is effective only on helpful tracks.

During our times, spinners like Bishen Singh Bedi and Erapalli Prasanna were into coaching. I learned a lot from them.
I believe that spinners from my era like Kumble and Murali Kartik should have got into coaching and mentored the young spinners.

Does that mean Ashwin, Jadeja and Amit Mishra don't inspire you?
No, Ashwin and Jadeja have been doing well for India.
Ashwin is almost unplayable in the subcontinent, plus he can adapt very well to the shorter formats as well.
But questions do arise when we compare his record at home to that outside the subcontinent. He can become a legend only if he delivers in overseas conditions, ones that aren't exactly favourable.

Jadeja, according to me, will find it difficult to perform when the track is not turning. He bowls flat and fast... it is extremely difficult when he turns the ball at such high speed.
But will he be able to turn the ball so much on pace-friendly tracks?

I think the management will use him only in spinning conditions and back the pacers to do the job overseas.

Mishra, to me, is more of a classical spinner who can use his variations as well.
I am particularly impressed with Pakistan's leg-spinner Yasir Shah. He is the best spinner in the world at present.


So preparing turning tracks will work against the spinners in the longer run?
Exactly! What's the point if you're bowling on such tracks?
You're not bowling with the right technique and you're only bowling fast. You're not using your fingers; you're not using your body weight either.

Earlier we had Murali (Kartik), Sunil Joshi, Kumble, Harbhajan Singh and myself. It was healthy competition and we played on good tracks, which offered turn only towards the third day.
I don't remember playing on rank turners. It's difficult for India to find a quality spinner these days.

The present crop struggles overseas because they are not accustomed to the art of getting wickets with patience and perseverance.
I don't know how they will survive when the track is not turning.

Do you see a difference in the Indian batsmen's ability to play spin over the years?
It is simple to understand.
None of the South African spinners were of international quality. They lacked experience. But if you are preparing rank turners, obviously, our batsmen will also suffer.

I was awed by the way V V S (Laxman), Sachin (Tendulkar), Rahul (Dravid) and Sourav (Ganguly) played spin. They attacked the bowler from the outset, but I also think that was because they got proper practice against quality spinners.

Virat Kohli stands out from the current lot when it comes to playing spin. I am also impressed with Ajinkya Rahane's technique.

How do you look at the ICC's latest clampdown on chuckers?
I think it is a positive move to keep it equal for all bowlers.
Many spinners from our time would have been penalized if the ICC was stricter at that time.

Which was your most memorable moment playing for India?
There are many, but the one that stands out is before I made my debut, during the 2004 Pakistan series.
I didn't play in the first match. Sachin was injured and he came off the field. Some other player was supposed to substitute him, but he signaled to me to go onto the ground.
The atmosphere was stimulating, but, more than that, it helped calm my nerves.

A nice gesture from Sachin. This is something which can only come with experience.
In the next match, when I played, I wasn't nervous because I had fielded in a pressure match. I did mention this to Sachin later.

What do you plan to do next?
I will be playing in the Masters Champions League. I think it is an entertaining concept.
I have been involved with coaching at the Mumbai Cricket Association Academy. I will try to guide the younger spinners, and keep contributing to the game which has made me what I am today.