- Namibia face India in second quarter-final in Fatullah on Saturday
- West Indies beat Zimbabwe by two runs to finish second in Group C behind England
- Bangladesh top Group A, plays Nepal in quarter-final in Mirpur on Friday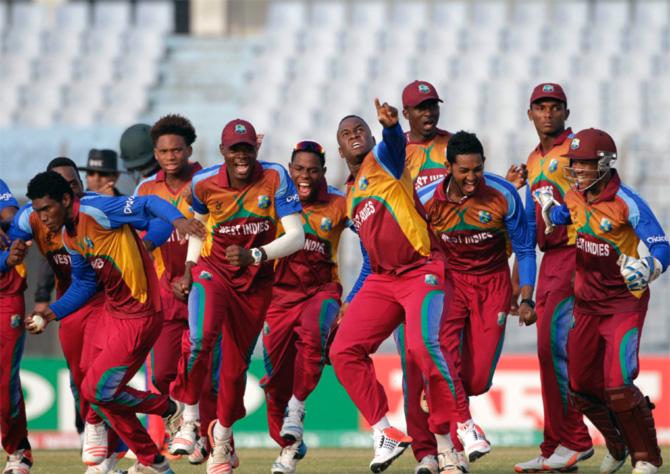 IMAGE: West Indies players celebrate winning their match against Zimbabwe in the ICC Under-19 World Cup. Photograph: ICC
The West Indies took the last quarter-final spot in the ICC Under-19 Cricket World Cup with a thrilling, but controversial, two-run win over Zimbabwe on Tuesday that gave it second place in Group C behind England.
Zimbabwe, chasing the West Indies' 226 for nine, began the last over needing just three runs to win with one wicket in hand amid mounting tension in Chittagong.

But, West Indies seamer Keemo Paul effected the 'Mankad' mode of dismissal as he whipped off the bails before sending down the first ball of the final over, catching non-striker Richard Ngarava out of his crease. The decision was referred to the TV umpire who declared Ngarava run-out.
The last-wicket incident proved an anti-climax to what had been an absorbing do-or-die contest between two valiant teams attempting to nail a quarter-final berth.
Zimbabwe, in its run-chase, was reduced to 147 for six following a four-wicket haul by fast bowler Alzaari Joseph, before Adam Keefe (43) and Wesley Madhevere (21) led a remarkable fightback by adding 62 runs for the seventh wicket.

Shamar Springer, who had top-scored with 61 in the West Indies innings, turned his team's hero with the ball by dismissing both batsmen to finish with two for 16 in four overs.

The West Indies will take on the winner of Wednesday's last league match between Pakistan and Sri Lanka in the fourth quarter-final in Fatullah on 8 February, while Zimbabwe will play Canada in the Plate Championships quarter-final in Cox's Bazar on 5 February.

West Indies coach Graeme West admitted it was a tight match: "It got very tight and we knew that this was a game that was always going down to the wire. A bit of nip and tuck. It (the finish) was certainly not something we had envisaged.

"I can imagine what they (Zimbabwe team) must be going through now. I feel sorry for them because they got themselves into winning positions and then we pulled it back. I share their disappointment.

"Our objective was to progress to the quarters and doing that after a tense game was very pleasing. We are still not there and have to take care of the little things that we are not doing right at the moment."

Zimbabwe coach Stephen Mangongo said he was happy with the way his side had fought in the match.

"I am proud of my boys. Restricting the West Indies for 226 on a batting-friendly wicket was a good performance and we were up for the chase. And like any other games, we lost quick wickets under pressure," he said.

"I am disappointed with the way the game ended. I have debriefed the boys in the dressing room and they were all crying. We have explained that technically the run-out is legal. We left it to the last man and we should not have done that. It was a hard lesson and they have learnt it the hard way."
Zimbabwe captain Brandon Mavuta was visibly upset and refused to comment on the run out.

"I don't have anything to say," he said after the match.

However, the West Indies team came in for a lot of criticism.

"This is not a good look. absolutely disgraceful behaviour!!," former New Zealand captain Stephen Fleming said on Twitter.

"Unbelievable , Not out #U19CWC," Australia coach Darren Lehmann said.

"Rules are rules but the #mankad today was poor sportsmanship. If he was 3foot out his crease then maybe but the poor lad was on the line," former England fast bowler Graham Onions said.
The mode of run-out came to be known as 'Mankading' after India's Vinoo Mankad dismissed Australia's Bill Brown in a Test in Sydney in 1947 in similar circumstances.
The dismissal falls within law 42.15, which states: "The bowler is permitted, before releasing the ball and provided he has not completed his usual delivery swing, to attempt to run out the non-striker."
Meanwhile, Bangladesh topped Group A with an eight-wicket demolition of second-placed Namibia, ending the match in Cox's Bazar in one session itself.

Namibia was dismissed for 65 in 32.5 overs after being sent into bat by Bangladesh with Saleh Ahmed, skipper Mehidy Hasan and Ariful Islam claiming two wickets each.

Bangladesh lost Pinak Ghosh in the first over, but an unbeaten 34 from Joyraz Sheik steered the host to an easy victory in the 16th over.

Bangladesh ended the league with three successive wins and will now play surprise qualifier Nepal in the first quarter-final in Mirpur on 5 February, while another qualifier Namibia, which knocked out defending champion South Africa, will take on India on Saturday in Fatullah for a place in the semi-finals.

South Africa finished third in the group after a 10-wicket rout of Scotland in Cox's Bazar, the first win in the tournament for skipper Tony de Zorzi's men.

Electing to field, South Africa bowled out Scotland for 127 with Dayyaan Galiem, Wiaan Mulder, Sean Whitehead and de Zorzi taking two wickets each.

The South Africans raced to victory in 29 overs without losing a wicket as openers Kyle Verreynne and Liam Smith returned unbeaten with identical scores of 64 not out and in the same number of deliveries (87).

In the Plate Championship quarter-finals, South Africa will play Ireland on Thursday and on the same day, Scotland will meet New Zealand.


Scores in brief:
Group A: Bangladesh beat Namibia by eight wickets in Cox's Bazar
Namibia 65 all out, 32.5 overs (Niko Davin 19; Ariful Islam 2-9, Saleh Ahmed 2-10, Mehidy Hasan 2-12)
Bangladesh 66-2, 16 overs (Joyraz Sheik 34 not out, Fritz Coetzee 2-20)
Group A: South Africa beat Scotland by 10 wickets in Cox's Bazar
Scotland 127 all out, 45.4 overs (Harris McCreath 29 not out; Dayyaan Galiem 2-16, Wiaan Mulder 2-16, Sean Whitehead 2-16, Tony de Zorzi 2-20)
South Africa 129-0, 29 overs (Kyle Verreynne 64 not out, Liam Smith 64 not out)
Group C: West Indies beat Zimbabwe by two runs in Chittagong
West Indies 226-9, 50 overs (Shamar Springer 61, Rugare Magarira 3-28, Wesley Madhevere 2-48)
Zimbabwe 224 all out, 49 overs (Shaun Snyder 52, Adam Keefe 43, Jeremy Ives 37, Wesley Madhevere 21; Alzaari Joseph 4-30)