England finally oust Smith after a volley of verbals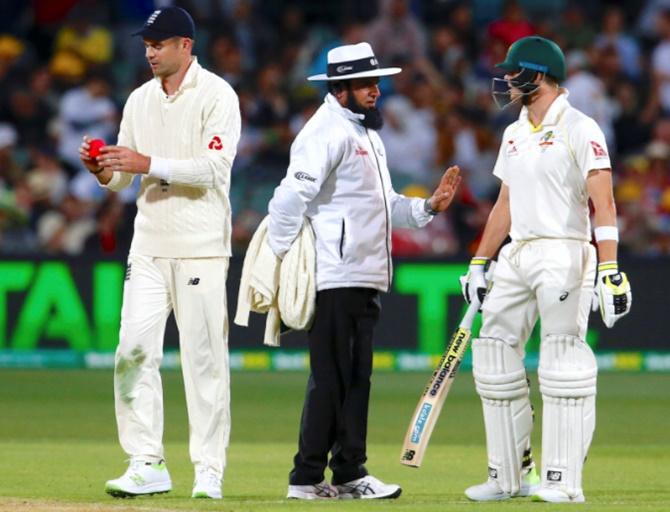 IMAGE:Umpire Aleem Dar stands between England's James Anderson and Australia's captain Steve Smith during the first day of the second Ashes Test match. Photograph: David Gray/Reuters
England seamer Craig Overton felt he had a bit of help from his team mates as he made a dream start to his Test career by claiming the key wicket of Australia captain Steve Smith in the second Ashes Test on Saturday.
After a week dominated by back and forth between the camps over the sledging of England's Jonny Bairstow in the first Test, the tourists clearly decided to target Smith with a few choice words in a bid to unsettle him.
Smith's 141 not out was key to Australia's 10-wicket victory in Brisbane and initially he continued in the same vein, looking comfortable against the pink ball under the Adelaide lights and racking up 40 runs.
Overton, who came in for Jake Ball to make his Test debut in the first day-night Ashes clash, struck halfway through the final session to remove him, however, giving a straight ball a little extra juice and watching Smith play on via his pad.
"I don't know what was said but it looked like it got under his skin. He still got 40, so he played pretty well, but it's nice to get him in the end," Overton told reporters.
"It was a pretty nice one, obviously. He's one of the best players in the world so to get that one to start with and hopefully I can carry on with that tomorrow."
It was particularly gratifying as Smith, who gave as good as he got out in the middle, had suggested that Overton was "a bit slow".
Smith also responded in kind to close attention from paceman James Anderson - at one stage umpire Aleem Dar stepped in between the pair - and indulged in some over-dramatic bat waving.
"The way he left the ball, like a sort of exaggeration a little bit," said Overton.
"He didn't do that in the first innings in Brisbane. I don't know if he was doing it on purpose to wind us up a little bit."
Smith's team mate Usman Khawaja, who top-scored for Australia with 53 as the hosts reached 209 for four at the end of play, thought Smith had been unaffected by the sledging from the English.
"It didn't look like it distracted him at all, he was batting beautifully," he said.
"From my end it looked like it switched Steven Smith on a bit. But he was quite enjoying being out there and we were getting a partnership so I was happy.
"He was switched on, he was playing really good cricket, there was a bit of banter going on both sides but it didn't seem too out of the norm. It was good old fashioned Test cricket. It was entertaining."