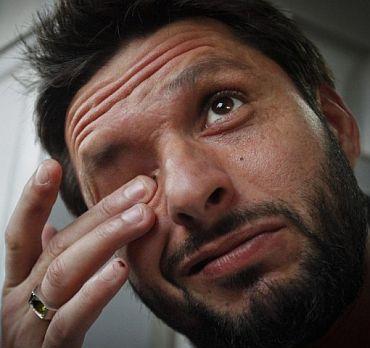 Former Pakistan captains' Shahid Afridi and Javed Miandad may have resolved their differences after an ugly spat, but now reports reveal that underworld don Dawood Ibrahim had threatened Afridi forcing him to call truce with Miandad.
According to a report in siasat.com, Dawood had called up Afridi on October 12 and threatened him.
Dawood's daughter is married to Miandad's son and reports suggest that the gangster intervened to take side of his relative after Afridi had threatened Miandad with legal action over 'match-fixing allegations'.
Afridi's request for a farewell match to mark his retirement snowballed into a controversy when Miandad lashed out, claiming the veteran all-rounder wanted it for the money.
Miandad had also alleged that Afridi was involved in match fixing and had claimed that he was a witness to such activities by the latter.
"I would want Shahid Afridi to swear by his children and say that he has not fixed matches for Pakistan and has not sold Pakistan. I am a witness, I have caught him.
"I had caught the entire team. These people are fixers and they are talking about money," Miandad had told a Pakistani news channel.
In a series of angry tweets, Afridi threatened to take legal action warning Miandad to prove his accusations.
"Javed Bhai has pardoned me? Thanks, But has he withdrawn his allegations, what has he got to say to that? His allegations caused pain & grief to me my family and my fans, is he retracting from his actual allegation? I consider him an elder and hope he'll take back his actual words.
"Else I'll have to seek answer and justice to clear my reputation in court. Nothing matters more to me than playing for my country with pride, no one can accuse me of selling my country.
"I want to stress that I have great respect for Javed Bhai he is our hero, our legend, he's my mentor too. I'll never lose regard for him," he tweeted.
Pakistan legends Imran Khan and Wasim Akram along with several other former players had urged the cricketer duo to bury the hatchet.
IMAGE: Former Pakistan captain Shahid Afridi.