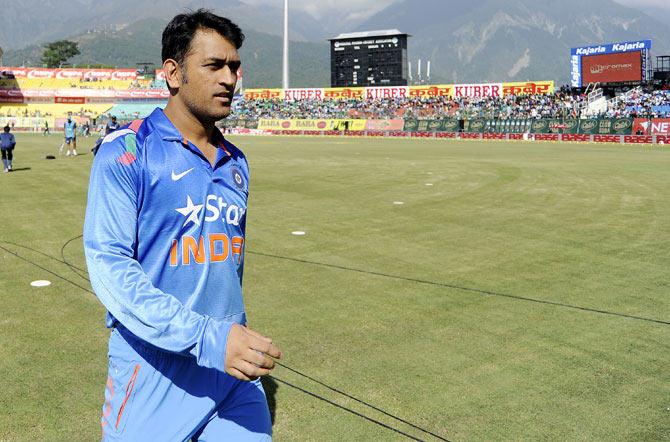 IMAGE: India's former captain Mahendra Singh Dhoni. Photograph: BCCI.
Expressing his disappointment over the resignation of Mahendra Singh Dhoni as the captain of the Indian cricket team, renowned cricket commentator Harsha Bhogle has described the move by the former as `selfless` before applauding his magnificent contribution to the country.
"Time to stand up and applaud a magnificent servant, and indeed leader, of Indian cricket. #Dhoni. Clearly Dhoni thinks the moment has come. Thought he would quit after the Champions Trophy, but this is a selfless move. World T20, World Cup, Champions Trophy, Test No 1, IPL titles, Champions League titles.
"Everything in the game. #Dhoni. Many memories, many emotions. But typical of a man who never hogged the limelight; even as captain of a World Cup winning team. Trying to think like #Dhoni," Bhogle wrote on Twitter.
In a shocking move, Dhoni stepped down as the captain of the Indian cricket team from the one-day internationals and T20s international formats of the game, the Board of Control for Cricket in India (BCCI) had confirmed.
Although the replacement of the Dhoni is not yet decided, Test skipper Virat Kohli is likely to take over the mantle.
"Kohli most likely 2019 World Cup captain, so best that he leads in the Champions Trophy so best he starts now. Good thing about this decision is that there is still no competition for Dhoni. Would be keen to know who he consulted though! Suspect nobody," Bhogle said in a series of tweets.
Former Indian cricketer Mohammad Kaif also expressed his views on Dhoni's sudden resignation.He tweeted, "Take a bow @msdhoni .To lead India for 9 years with such wonderful results, India were really blessed to have you as #Captain ."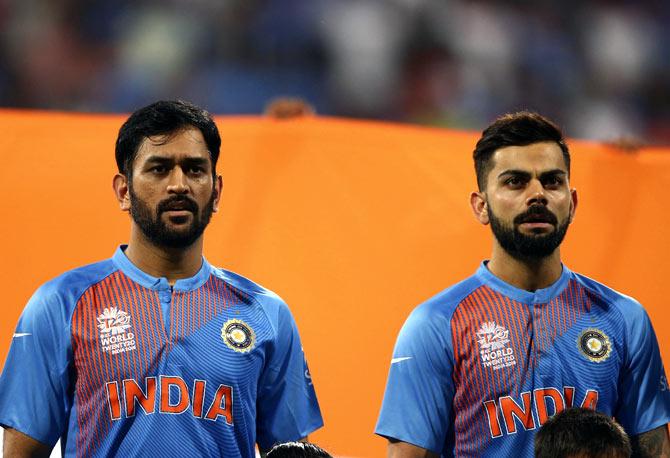 IMAGE: Mahendra Singh Dhoni with Virat Kohli. Photograph: BCCI.
Describing Dhoni as `one of the finest leaders of the Indian cricket`, former BCCI president Anurag Thakur has hailed the wicketkeeper-batsman for leading the team to greater heights.
"Hey @msdhoni yuv been one of the finest leaders of Indian Cricket @BCCI, led the team to great heights & inspired so many across countries! I congratulate @msdhoni on an illustrious career as Capt who led #TeamIndia to memorable victories in T20WorldCup 2007 & 2011 @ICC WorldCup!," Thakur said in a series of tweets.
The 35-year-old, however, will remain available for selection for the upcoming ODI and T20 series against England and the same has been conveyed to the Senior Selection Committee.
Dhoni has achieved unprecedented success as a limited-overs captain, guiding India to glory in the World T20 in 2007, the ICC World Cup in 2011 and the Champions Trophy 2013.
He relinquished Test captaincy and retired from the longest form of the game in 2014, but continued to lead the side in limited overs.
Dhoni, who currently holds the record for most matches as captain of an international side with 331 games across formats, played his last series as captain against New Zealand at home, where he led the Indian side to a 3-2 series win.
India will play three-match ODI series and three-match T20 series beginning January 15 at the Maharashtra Cricket Association (MCA) Stadium.