'You don't take decision like this overnight. It was well thought out.'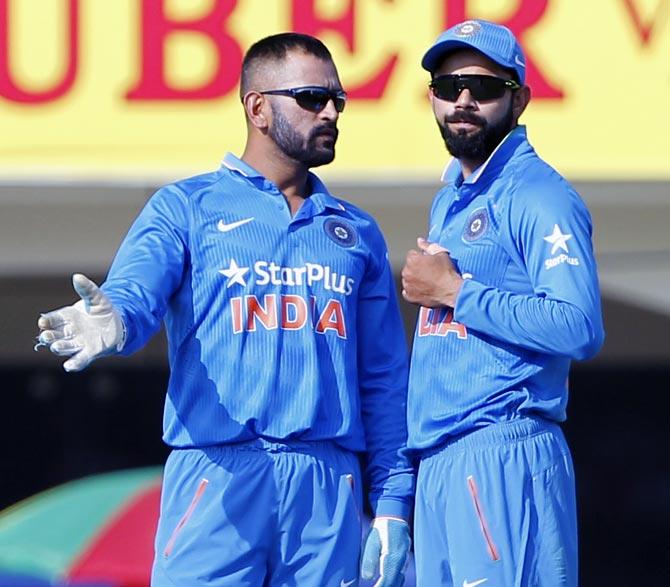 IMAGE: Mahendra Singh Dhoni, left, with Virat Kohli. Photograph: BCCI
Mahendra Singh Dhoni on Wednesday surprised the cricketing world by stepping down from India's limited overs captaincy but it was a well thought out decision, said his close friend and confidante Arun Pandey.

"You don't take decision like this overnight. It was well thought out. Dhoni thought this was the right time to step aside and continuing playing as wicketkeeper-batsman," said Pandey, who also manages Dhoni's commercial interests.

Dhoni is known for keeping his card's close to his chest.
He had caught the cricketing fraternity by surprise when he announced his retirement from Test cricket midway into the series in Australia.

Talking more about Dhoni's decision to step down, Pandey said: "His thinking was that he has build the crux of the team now (for the future and next World Cup) and it is the right time to give up captaincy. He is not someone who would cling on to something. For him, the team's interests is first and foremost."

Former cricketers including Sourav Ganguly had earlier backed Virat Kohli to take over from Dhoni in all three formats.

Asked Pandey was that playing in Dhoni's mind, he replied in the negative.

"Dhoni is beyond all this. A chunk of current cricketers playing for India blossomed under Dhoni. Now he thinks it is the right time to step aside for the larger interest of the team. Not many would do that but Dhoni has done that. It has always been India first for him," added Pandey.