'I am somebody who has always believes in the present. So you won't get answers regarding the future; that is too far ahead.'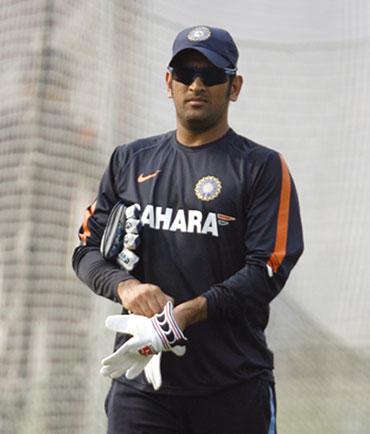 IMAGE: India's limited overs skipper Mahendra Singh Dhoni. Photograph: PTI
Mahendra Singh Dhoni was non-committal when quizzed on his future in international cricket, saying he is not looking beyond the World T20 in March-April.
"As of now, I am somebody who has always believes in the present. So you won't get answers regarding the future; that is too far ahead.
"As of now, the Australia series is important. After that, once we get into the T20 groove, we need to move in one direction as to what we should do as a team so we have the best chance of winning the World T20.
"So those are the primary concerns as of now," said India's ODI captain, on the eve of the team's departure to Australia for the upcoming ODI and T20 series.
Speculation regarding Dhoni's future cropped up last year after India's loss to Australia in ODI World Cup semi-final last April.
Asked if he would play another World Cup, Dhoni then replied: 'I'm not sure. I'm 33, I'm still running, I'm still fit, but I'll have a year's time, maybe close to next year, during the T20 World Cup, will be the time I would like to decide whether I'll continue till the 2019 World Cup or not.'
India's selectors have named him captain till the World T20, to be played in India, and it remains to be seen if he will be keen to continue donning national colours after that competition.
Dhoni, 34, had shocked everyone by announcing his sudden retirement from Test cricket in the middle of the Australia Test series in December 2014.
Asked about his future plans in the limited-overs' format, he only said all his focus is on winning back the World T20, his first major title as India captain, way back in 2007.
"I have not really thought beyond that (World T20). There are a lot of things you need to think about and I don't think this is the right time.
"All the energy, resources and thinking all need to go in one direction and that is the Australia ODI series going into the T20 World Cup. It is a very important 3 to 3-1/2 months."