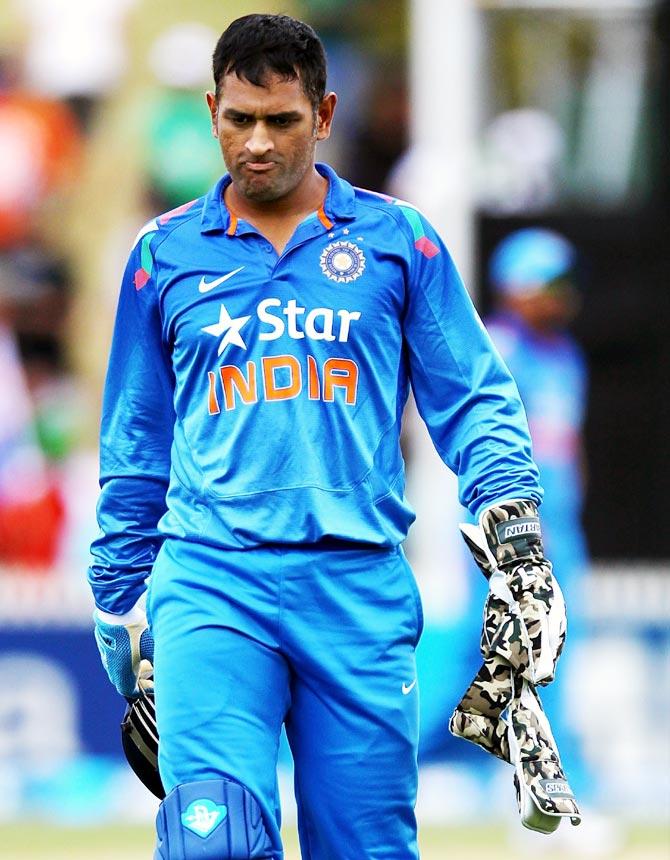 Mahendra Singh Dhoni of India. Photograph: Anthony Au-Yeung/Getty Images
Dale Steyn and Mahendra Singh Dhoni named in Test and ODI sides for seventh year in a row, respectively
India's Mahendra Singh Dhoni was named captain of the ICC's 'ODI Team of the Year', but none of the Indian players found berth in the governing body's 'Test Team of the Year', led by Sri Lanka's Angelo Mathews.
The ICC's Cricket Committee, headed by former India captain Anil Kumble, announced the two teams, comprising 12 players each.
While the 12-member ODI team, selected on performances during 2014, has Dhoni as captain, along with his Indian team deputy Virat Kohli and pacer Mohammad Shami, opener Rohit Sharma was been named 12th man.
This is the seventh straight year that Dhoni has made it to the ICC's ODI side, while Dale Steyn also made it to the Test one for the seventh year in succession.
The 12-member ODI team comprises four Indian players, three South Africans, two Australians, a Pakistani and Sri Lankan.
The Test team has two Australians, three New Zealanders, two from England, three Sri Lankans and two South Africans.
However, because of the 1-3 series defeat in England and 0-1 series loss to New Zealand earlier this year, the committee did not find any Indian worthy of making the cut in the Test team of 2014.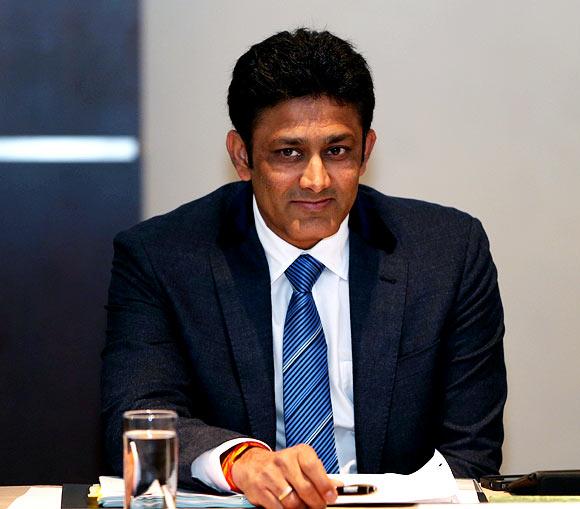 Anil Kumble. Photograph: Andrew Redington/Getty Images
The chairman of the LG ICC Awards selection panel, Anil Kumble, said: "I would like to congratulate all the players for their selection in the teams of the year. It is an achievement to be proud of and a recognition for their good performances in the qualifying period.
"Team selection is one of the toughest jobs and when you have a large pool of outstanding players to select from in a 12-month period between 26 August 2013 and 17 September 2014, then it becomes even more difficult."
Statistics were available as a guide but were not necessarily the overwhelming factor in the choices made.
ICC ODI Team of 2014: (In batting order) Mohammad Hafeez, Quinton de Kock, Virat Kohli, George Bailey, AB de Villiers, Mahendra Singh Dhoni (wicketkeeper) (captain), Dwayne Bravo, James Faulkner, Dale Steyn, Mohammad Shami, Ajantha Mendis, Rohit Sharma.
ICC Test Team of 2014: (in batting order) David Warner, Kane Williamson, Kumar Sangakkara, AB de Villiers, Joe Root, Angelo Mathews (captain), Mitchell Johnson, Stuart Broad, Dale Steyn, Rangana Herath, Tim Southee, Ross Taylor (12th man).