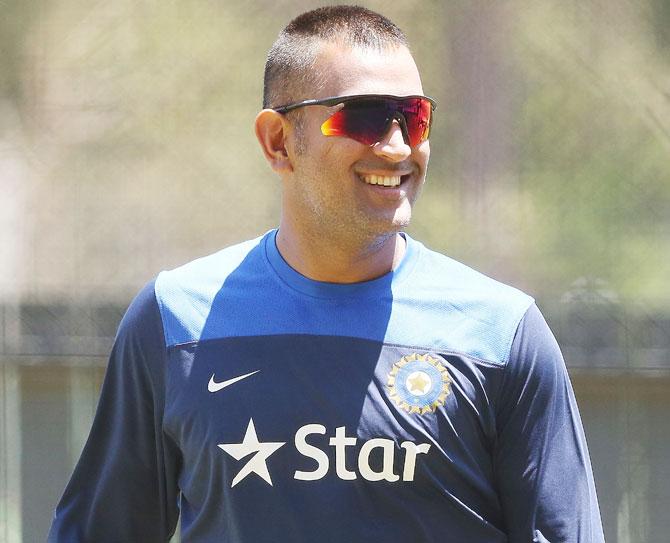 India's MS Dhoni reacts during a training session. Photograph: Michael Dodge/Getty Images
Saluting his decision to retire from Test cricket, former India captain Kapil Dev has said Mahendra Singh Dhoni has given everybody, including the chair-greedy administrators, a food for thought with his bold step.
"You could have easily played 100 Tests. We could not do it what you have done by saying 'goodbye, I've done my best and let the next generation come out'. That's why I say 'Dhoni well done, you're my man'," Kapil Dev said during his address at the 4th Tiger Pataudi Memorial Lecture, organised by The
Telegraph.
"Dhoni you're a great guy. You have served the country so well. He has done a good thing. A lot of people said he should have played at least 100 Tests. I think he has given us a new thought. You don't have to play throughout your life. You should retire when you think the next generation is coming," he said.
Quoting Aussie great Greg Chappell, he further said, "He had said one thing which I admire. Any cricketer who plays longer than his time, kills the next three generation. It's a thought I truly admire."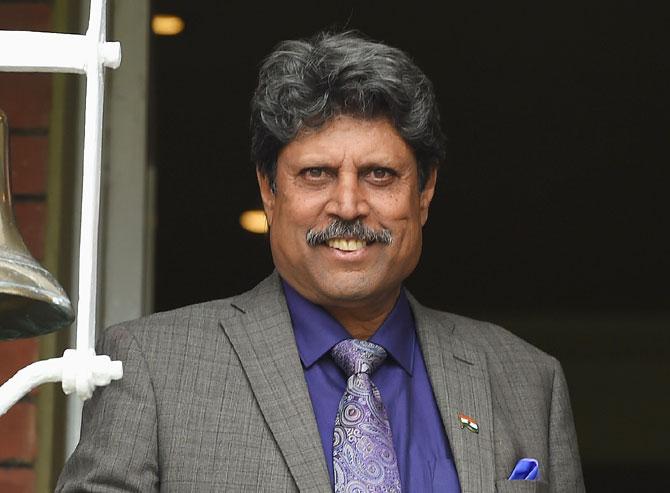 Former India captain Kapil Dev. Photograph: Stu Forster/Getty Images
Taking a dig at the cricket administrators, Kapil Dev said, "I hope in cricket, the administration people will learn from it and not stick to their chairs for 30 years or lifetime." Kapil also wished Dhoni and team all the best for their World Cup title defence in Australia-New Zealand next month.
"I wish you another victory. I hope you play well and don't let it go. It comes every four years. It's painful to wait for another four years." Recollecting their 1983 triumph, the ace Indian all-rounder said, "I feel very proud and happy I was a part of the 1983 team. Forget about captaincy, but a part of the
process we started in our country."
"It's the self belief about achieving something in sport not just cricket. We started believing that we can achieve and that's the best thing to have happened in 1983. My team is your team as well."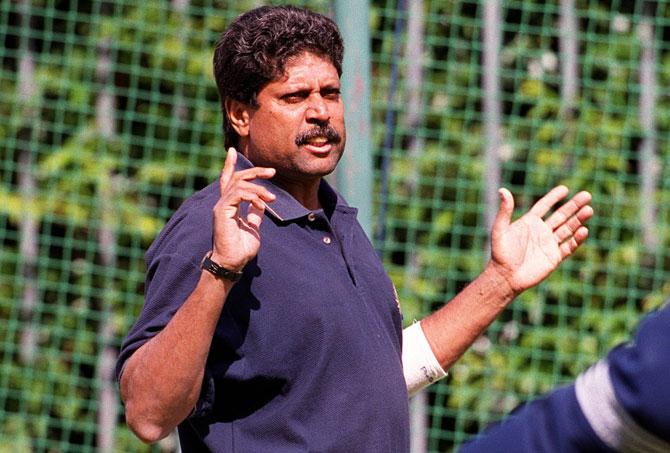 Former India captain Kapil Dev. Photograph: Getty Images
Kapil Dev also urged the BCCI to appoint different captains in the longer and shorter versions of the game.
"Every Test player can't be a good captain in T20. And every T20 captain is definitely not good enough to lead a Test side. It's very difficult because in Tests you need thinking. I hope my country and the cricket board will have the sense to have two or three different captains. It will help our game.
He was also of the opinion that in future, cricket may see non-playing captain.
"I think a time will come when you will have non-playing captain who can assess the game much better. Technology is changing so fast. Man management is required in cricket and coach can be a senior cricketer.
"Now cricket has changed so much. In cricket one thing is good, everybody is an expert and I feel that's why the sport is so popular. Everybody is a selector in our country and ives his opinion."
Paying glowing tribute to Pataudi, he said, "Certain people don't go. He's the best cricketer we had had and we are proud of him. He has given us a new thinking. Lot of people followed him including myself."