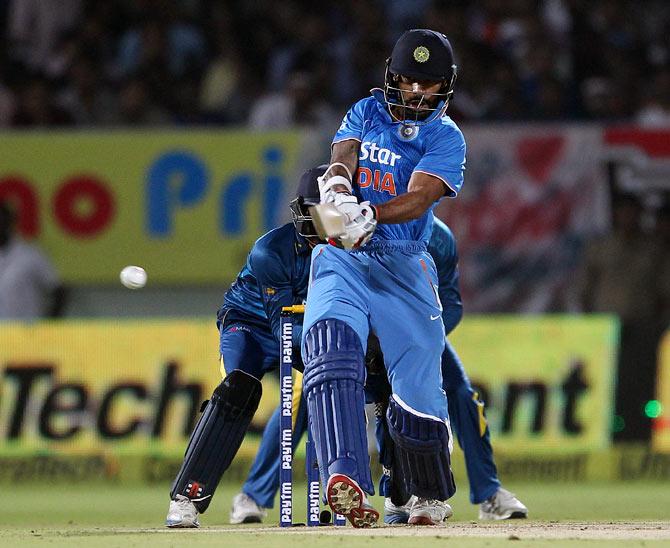 IMAGE: India opener Shikhar Dhawan hits out. Photograph: BCCI
Hoping to carry his great run of form into the Asia Cup and World T20, India opener Shikhar Dhawan said keeping things simple and "doing the basics right" has worked in his favour.
- India are favourites for WT20, but Dhoni acknowledges a problem...
- 3 Takeaway points from India's series win against Sri Lanka
Dhawan was involved in a candid chat with his opening partner Rohit Sharma following India's comprehensive nine-wicket win over Sri Lanka in Visakhapatnam on Sunday. India won the three-match Twenty20 series 2-1.
"First of all, I am very fortunate that my teammate is saying that my form is very important for my team. And yeah, I am just keeping it quite simple, making sure that I am doing the basics right, just timing the ball rather than look to hit the ball," Dhawan told his interviewer, Rohit Sharma, in a video posted on bcci.tv.
The Delhi player added: "Of course, in this format we have to hit big ones too. I make sure that I play less dot balls so pressure doesn't build on me that much."
The 30-year-old Dhawan smashed his way to a maiden half-century in the slam-bang format in the second match and then came up with a run-a-ball 46 to wrap up the game and series in India's favour in the final T20 in Vizag.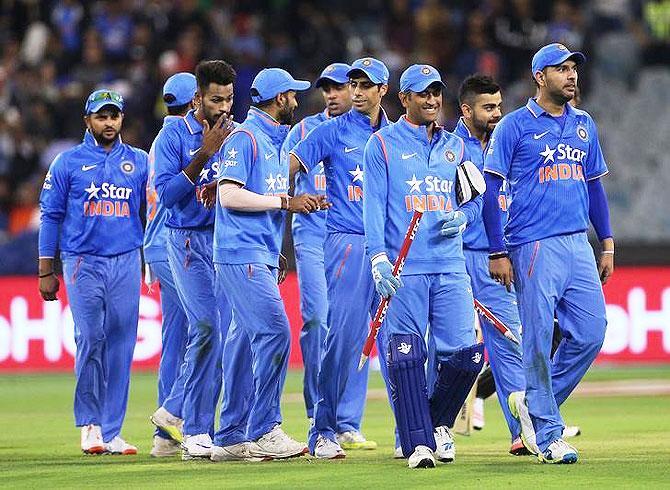 IMAGE: India players leave the field. Photograph: Hamish Blair/Reuters
As Sharma showered praises on his teammate, Dhawan urged Indian fans to gear up for some exciting times ahead in next month's big-ticket tournament.
"I will go the same way I am going, it's working for me and I will look to extend it as much as possible, which is good for me and my team. And, we both can put up some great shows for our Indian fans and audience when we go into the middle, we are going to make you guys stand up on your seats, Dhawan said, sharing a hearty laugh with his Sharma.
Asked about his penchant for playing pranks, Dhawan was all smiles.
"Me and Bhajji pa (Harbhajan Singh) go very well with pranks. I guess people think that I am quite a serious guy with my looks but I am not, I am totally the opposite. I love having fun and make people laugh. And that's my quality which has been blessed by God and I love doing it, bringing smiles on the face of people.
"And I will keep doing that in the dressing room so that our team stays happy whether we win or lose, that's a different aspect. We all should be happy, we have got one life."
Needless to say, he was delighted with India's triumph in the short series against Sri Lanka.
"I am feeling very good that we came back strongly in this series and we did good for our team."