With his son now playing for England, the affiliations were clear. Paramjit Singh, Monty Panesar's father, walked into the Punjab Cricket Association stadium on Thursday, wearing a navy blue patka and white and red England t-shirt. His daughter, Charanjit, also wore an England jersey.
"You can see who we are supporting," said Paramjit. "All our children are more British than Indian."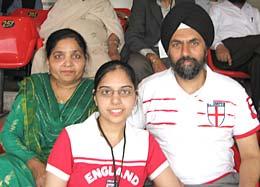 Sitting in the president's box at the stadium, Paramjit was in the media spotlight throughout the day as the match played on the stop and start mode.
"We've given so many interviews, I don't know what to say now," said Paramjit, flanked by his many relatives.
"There were 100 people supposed to come from Ludhiana and some 100 from Yamunanagar, where his mom hails from."
Though Monty's mother preferred to stay silent, the pride was obvious as the family basked under the glory her son had earned.
"We are obviously feeling great. Monty has become somewhat of a role model for the Asian community in England. It's a great moment," added Paramjit.
It was Paramjit who introduced Monty to cricket, though accidentally. While playing a club match in England, a nine-year-old Monty was asked to take the field as 11th man since one of the players was unavailable.
"He used to come with me since he was 6-7 years old. But it was then [when he fielded] that everyone said Monty should take cricket seriously.
"I always thought Monty would be a batsman. He started off as one, then turned to fast bowling. Someone then suggested that he has a good action for a spinner. That's how he started bowling spin," said Paramjit, who played two seasons for Luton College.
Monty's family landed in India only on March 6, which meant that they missed his England Test debut in the first match of the series in Nagpur. The highlight of his debut, which made him the first Sikh to play for India, was the wicket of Sachin Tendulkar, his first Test scalp.
"Oh yes, that was a very proud moment. Ever since Monty was selected for the series in India everyone kept telling him he had to take the wicket of Sachin Tendulkar. The moment that happened his brother started jumping up and down. He kept saying, 'he's done it'.
"We didn't expect he would get to play in the first Test itself. But he had got a lot of good wickets in the domestic season (playing for Northamptonshire). It was his good luck that he got the chance."
With Monty coming to Chandigarh for a one of a kind 'home' Test, the list of his relatives wanting to see the match live from the ground kept growing. But only 75 passes were available for the entire England team and the rest of them had to accommodate themselves in the general stands.
Monty was also asked to offer prayers 'ardhast' by the Gurudwara in Sector 32 in Chandigarh but the cricketer turned it down, saying he was still too small for a task like that. In return, he asked the locals to pray for his success.
Without doubt, Monty has generated a huge fan following. During the first day's play in the second Test, when he was shown on the mega screen sitting in the dressing room, the crowd started chanting his name.
But the real Monty-mania will be revealed only when the 23-year-old comes on to bowl in the second Test. Mohali is waiting!