'The biggest challenge is not to be too predictable.'
'If you can execute the yorker well, it can be a good ball at the death.'
South Africa fast bowler David Wiese discusses the art of bowling in the death overs in Twenty20 cricket, the challenge of slow Indian pitches and his team's chances in the World T20.
Harish Kotian/Rediff.com listens in.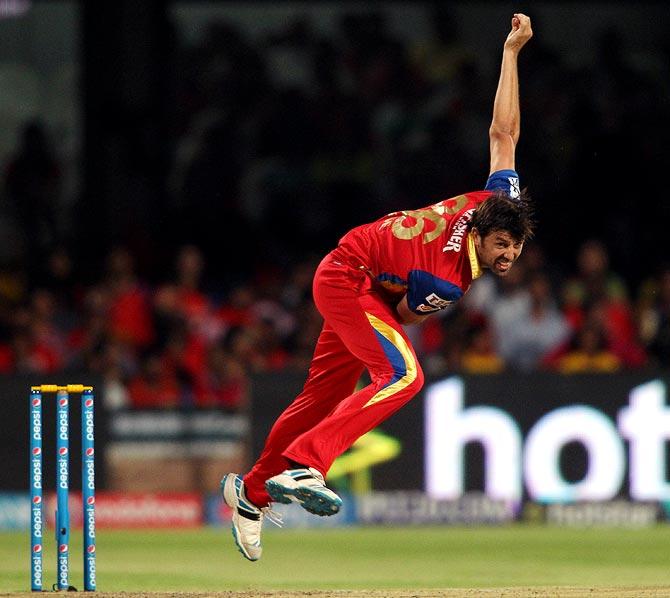 IMAGE: David Wiese in action for the Royal Challengers Bangalore during IPL 8 in 2015. Photograph: BCCI
He is one of South Africa's go to bowlers in the death overs in Twenty20 cricket, but not many heard of the fast bowler before the last Indian Premier League.
Starting as a relatively unknown bowler, David Wiese had a dream IPL debut at the Royal Challengers Bangalore in 2015, scalping 16 wickets from 14 games.
Playing alongside players like Chris Gayle, A B de Villiers, Virat Kohli, Darren Sammy and Mitchell Starc he became indispensable to RCB's plans.
In his first match, against the Mumbai Indians, he scored 47 off 25 balls before taking four wickets. Hhe didn't lose his place in the playing eleven the entire season thereafter.
Wiese made an impact in the death overs because of his variations. It made him a difficult bowler to hit.
South Africa will hope he draws on his IPL experience in the World T20.
Last week, during South Africa's World T20 media session in Mumbai, the 30 year old explained the art of bowling in the death overs in Twenty20 cricket.
Pointing out that variation is a major factor, he said: "The biggest challenge is not to be too predictable."
"We have seen that wickets in India, especially in the T20 format, have gotten better and better. They are not really slow and turning like it used to be. They have become very good wickets now."
"Playing for RCB, I can say the wickets in Bangalore are really good to bat on. Gone are the days when you played a bunch of spinners thinking it is going to turn square. As a bowler, you got to be on top of your game, you got to be well skilled, not to be too predictable, have a lot of change-ups and just be well-prepared."
So what variations should a fast bowler have for the slow Indian pitches?
"It is a combination of not just changing your pace, but also changing your line, changing your length, going yorker wide, yorker at the stumps; maybe a slower ball or a shorter ball. It is just about that the batsman doesn't line you up because you have become predictable. So you keep changing it all the time."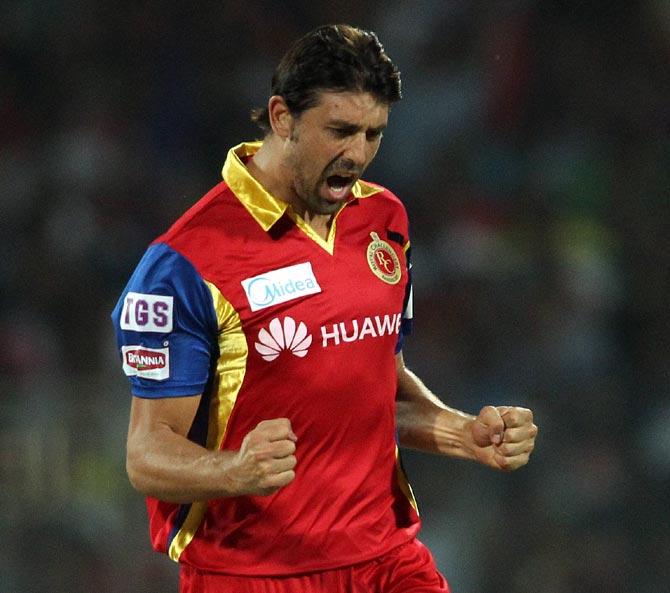 IMAGE: Wiese celebrates a wicket for the Royal Challengers Bangalore. Photograph: BCCI
With batsmen becoming more attacking in T20 cricket, Wiese says the yorker is the delivery he relies on most of the time to stop the flow of runs in the final few overs.
"It depends on the batsmen, on the conditions, but most of the time you will find that, probably, my go to ball would be a yorker."
"If you can execute the yorker well, it can be a good ball at the death. But, saying that, you could be on a slower wicket where maybe a slower cutter or a slower bouncer could be a good go to ball at the death. Maybe on a quicker wicket you could go hard back of the length."
"It just depends on summing up the conditions quickly and taking it from there. You can look at bowling the wide yorker and take it out of the batsman's hitting zone. If he is a good leg side player, someone like (Kieron) Pollard or (Chris) Gayle, you can try and go wide."
"You got to think on your feet and execute your skills. A yorker is still a good yorker, no matter who the batsman is if you can execute that skill well."
Wiese, who has taken 23 wickets in 17 T20Is for South Africa, felt a big part of a fast bowler's preparation is about watching a lot of videos of batsmen he will come up against.
"As a bowler you can do your preparation, you can go and study a batsman and see what his go to shot is and try and take him out of that. If you know someone paddles well or scoops well, then you try and bowl where he is not going to do that."
"At the end of the day, the batsmen have evolved and the batsmen have got better and better over the past few years. We have seen it moving into one day cricket and Test matches."
"The T20 game has affected batting. At the end of the day, as a bowler, you got to be confident that you have done your work and try and think what the batsmen is going to be doing now and take him out of his A game and execute your skills."
He urged fast bowlers to be brave while bowling in the death overs since there is the big possibility of going for runs most of the time.
"Death bowling is all about attitude. At the end of the day the batsmen could get hold of you and you could go for runs. That's part of the game, but also you can get some wickets. You got to make that decision that 'I am going to be positive, I am going to be aggressive in the bowling' and, ultimately, if it comes off for you it's good, but if it doesn't then you just got to tip your hat to the batsmen and say 'well played'."
"It is again about being unpredictable and going to your plan, but you got to be brave and you got to be prepared to go for runs in order to take wickets."
Wiese recalled how he once defended seven runs in the final over in South Africa's domestic RamSlam T20.
"I had to defend seven runs in the last over. In that sort of situation you almost feel that if you don't win the game from there it's fine because the batting team is expected to get seven runs. But if the first ball is a dot and you get a wicket from the next ball then the pressure is back on the batting team."
"You all know what pressure does to you; it is a funny thing!"
"Quite often, defending the last over, you are actually not the one under pressure, it is the batting team that is under pressure because they are expected to win, which is nice. It is nice when you can just go in there and do your best and if it doesn't come off the team mates will always be like 'You did your best and that is all that matters'."
Quite a few members of South Africa's team have considerable experience of Indian conditions,he said, courtesy their time in the IPL, which should prove handy in the World T20.
"It is quite a big advantage for us that most of our players have played a couple of seasons IPL now. We got a lot of experience in sub-continental conditions and we are going to look to use that and build from that."
"You can never prepare too much for the type of wickets you play in the sub-continent, but fortunately, there are a lot of guys who have played in the IPL and there is a lot of experience. We have to draw from that experience and build on that."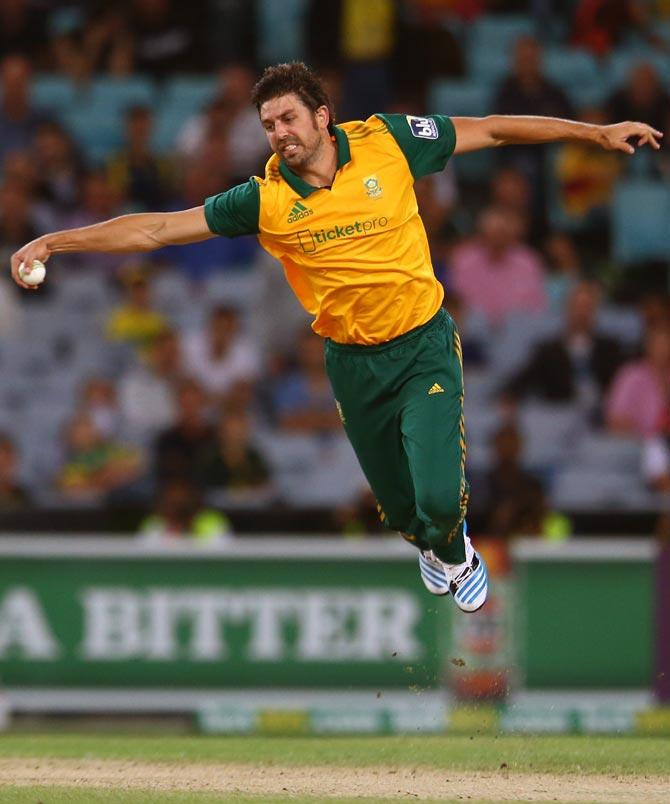 IMAGE: Wiese during a T20 International against Australia in Sydney, November 9, 2014. Photograph: Mark Kolbe/Getty Images
Asked if he prefers bowling in the death or in the first six overs of Powerplay, he said both have unique challenges and he is ready for both.
"Each part of the game has got its different challenges. It is tough in the first six overs with two fielders out, but then you have got the new ball which swings a bit more."
"At the end, you got more fielders out, but then the guys are coming out and hitting; then the ball might be reversing a little bit, so every facet of the game has its challenges. Even in the middle overs, from overs 7 to 12, the guys are starting to be more aggressive and starting to be more productive in that part."
"It is difficult to say, but if you ask any bowler they will say, probably, bowling in the Powerplay is a little more difficult than bowling in the death, purely because you got more protection out in the boundary."
"Nowadays, there are such good big hitters and death hitters that you are never out of the game."
South Africa have never won a World Cup in any format and Wiese believes this could the tournament where the Proteas finally break that jinx.
"We have been playing good cricket for the last 18 months. We went to Bangladesh, we got a series win there. We came to India and we got a series win here and now we have had good preparation against England and Australia."
"If you look at the six teams in the world, anyone can win this tournament. It is so tightly contested that on any given day anybody can actually play a match winning innings or bowl a match winning spell. It is such a short format that individuals can win it for you."