The Delhi & Districts Cricket Association (DDCA) has decided to move court to get requisite compliance certificates which are mandatory for hosting the T20 International against Sri Lanka at the Feroz Shah Kotla on February 12.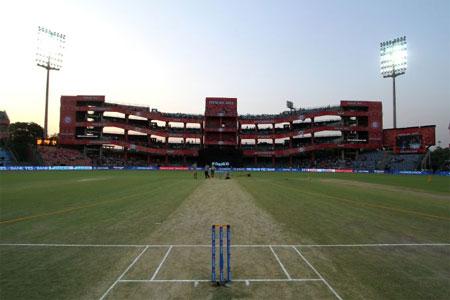 Accordingly, DDCA has intimated the BCCI about their move and also expressed desire to host the match.
"We have replied to BCCI secretary Anurag Thakur's mail informing him that we need to move to Delhi High court to get necessary compliance certificates. Since three departments -- fire, electricity and entertainment falls under DelhiState government ambit, we do not want to take chances," a senior DDCA official told PTI on Tuesday.
The Delhi government had last month formed a panel to probe alleged irregularities in the DDCA. It has been learnt that DDCA working president Chetan Chauhan has also intimated Court appointed observer Justice Mukul Mudgal about their latest move.
"Officially, BCCI allotted the match to us only few days back. We were preparing for the World T20s. Now we certainly need at least 7 days to get all permission. An assessment needs to be done by land development office," he added.
Image: New Delhi's Feroz Shah Kotla cricket ground
Photograph: BCCI