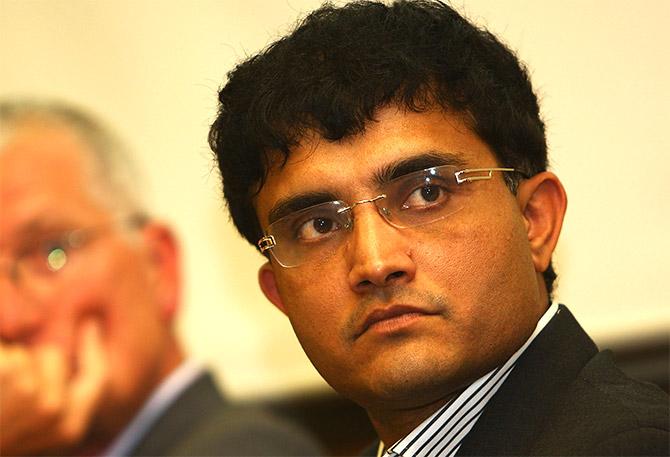 IMAGE: Sourav Ganguly. Photograph: Matthew Lewis/Getty Images for The ICC
Former India captain Sourav Ganguly said on Thursday day-night Test cricket is inevitable.
Ganguly's comment came after some reports stated that concerned with poor ticket sales especially during the India-Sri Lanka series opener last month at EdenGardens, the Cricket Association of Bengal (CAB) president has pushed for day-night Test matches at home.
"It is inevitable, it has to happen someday. It is very simple, a pink ball will be used instead of the red cherry and people will come and watch in the evening," Ganguly said on the sidelines of a promotional event in Kolkata.
He also lavished praise on Rohit Sharma for scoring his third ODI double century, but felt "sorry" for the Sri Lankans.
"I feel sorry for the Sri Lankans. Earlier it was (Virender) Sehwag, (Sachin) Tendulkar and now it's (Virat) Kohli and Rohit Sharma," Ganguly said.
"It was a remarkable innings. He took just 36 balls to convert his century into a double. I was watching the Sri Lankan bowlers and I said Jesus! He just kept sweeping them into the stands. Three double hundreds in one-day cricket," he said.
"Time has changed with T20 format. He is a serious player. His one-day record this year is probably the best in the world along side David Warner and Virat Kohli. I expect him to play the same way."
Sourav likely in FTP working group, questions on CEO inclusion
The working group of the BCCI on ICC Futures Tours & Programme (FTP) will have former India captain Sourav Ganguly in all likelihood, while CEO Rahul Johri will only be included if COA puts pressure on the office-bearers.
Last Monday, the BCCI general body decided to form a working group that will study the new FTP, where the Indian team plays 81 matches at home across three formats during the five-year-cycle from 2019-2023.
The working group is expected to have three principal office-bearers (acting president CK Khanna, acting secretary Amitabh Chaudhary, treasurer Aniruddh Chaudhry) and the members that they will be co-opting.
There is a possibility that each zone will be represented by a member.
Cricket Association of Bengal (CAB) president Ganguly is one name that every office-bearer wants in the panel.
"Both acting secretary and treasurer believe that Ganguly should be included as this is a purely cricket related issue. A cricketer of his stature giving inputs on FTP would be a great thing," a senior official, who was present at the SGM told PTI on Thursday.
However, it is learnt that office-bearers are not exactly on the same page whether to include Johri in the working group as a permanent member or summon him as a special invitee if need be, so that they don't incur the wrath of COA chief Vinod Rai.
"We all know what happened when Johri was told to leave one of the SGM meetings earlier this year. The three office bearers were show caused by the COA. While it is not hidden that the relationship between CEO and office-bearers have been frosty to say the least," the senior official said.
When one of the office bearers was asked the question, he said: "In any case, whatever are the findings of the working group, it will be apprised to the general body and the CEO is a part of that body. Why does he require to be a part of this working group? However if need be, we will call him for the meeting."
The new FTP has India playing 306 days of international cricket in the next five years compared to 390 that was during the previous five-year cycle.
While number of playing days is set to decrease, the increase in number of matches due to increase in T20 Internationals will ensure bigger TV revenue for the already richest cricket body in the world.