'I respect the views of Steven and Alastair'
'The facts of the matter are by playing day-night Tests, we're going to get even bigger audiences at the game and on television'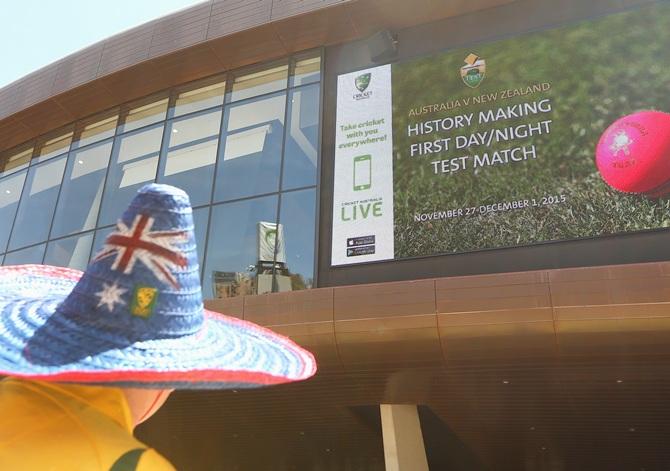 IMAGE: Spectators arrive at the Adelaide Oval for the first ever day-night Test match. Photograph: Cameron Spencer/Getty Images.
Cricket Australia (CA) will push for up to two day-night Tests at next year's Ashes series despite the misgivings of captain Steven Smith and his England counterpart Alastair Cook.
Both skippers said they felt the game's most enduring series could survive without being played under lights but CA CEO James Sutherland said he felt it was a 'natural progression'.
"I respect the views of Steven and Alastair," he told reporters in Melbourne on Thursday.
"The Ashes is a great contest and will no doubt attract a huge audience both at the grounds and on television, but the facts of the matter are by playing day-night Tests, we're going to get even bigger audiences at the game and on television.
"The Ashes series is still a long way off and we want to get through this summer first but we will play somewhere between zero and two day-night Tests during the Ashes in 18 months' time."
Australia played the maiden day-night Test against New Zealand at Adelaide Oval last November and have just agreed another flood-lit match with South Africa at the same venue during the home summer.
The hosts will also play their series-opener against Pakistan with the pink ball in Brisbane for the first time in December.
Smith has backed day-night cricket repeatedly but said he did not feel it necessary for the Ashes, which reliably draws big crowds.
"I think it works pretty well with the red ball," he told media while on tour in the Caribbean.
"It's been around for years and I think playing against England we always get the viewers and the crowds out."
Cook echoed Smith's position.
"It's probably not a series where you need to do it exactly at this time," Cook said.
England and Wales Cricket board chairman Colin Graves has also backed day-night cricket, saying it was only a matter of time that a match would be played in England.