New Zealand spinner Daniel Vettori, who is suffering from a groin injury, is likely to miss the two-match Test series against India, starting from August 23. 
The Kiwi tweaker was forced out of the second Test against the West Indies at Jamaica last week and remains a doubtful starter for the series against India, as he might not be able to recover in time. 
"It's not looking likely at this stage. There is a 90 per cent chance Dan won't be there," New Zealand skipper Ross Taylor said.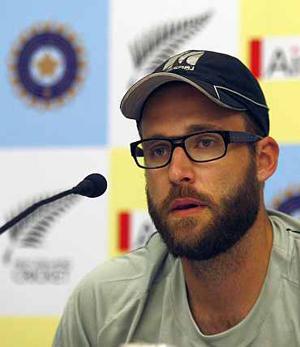 He said that they were weighing their options and looking forward at who will be able to fill the big shoes of Vettori. 
"We've got to look forward to seeing how the next spinner gets on over there," he was quoted as saying by Cricinfo. 
Vettori's absence may well help Indian-origin Tarun Nethula to win his Test cap. 
The 29-year-old leg-spinner born in Kurnool in Andhra Pradesh has played five One-Day Internationals for New Zealand and was part of the Test squad that travelled to the West Indies. 
The Kiwi's, meanwhile, will be traveling to India with their new coach Mike Hesson as John Wright's tenure ended with the conclusion of the West Indies tour. 
"Wright has been a good servant for New Zealand cricket, and it's a bit disappointing to send him off on that note. "We might not have put it into performances but I'm sure, over the next little while, that a lot of what John has done for the team will come through," Taylor said. 
New Zealand lost both the Test matches to the West Indies. 
The win interestingly gave the Caribbean's their first Test triumph over a nation other than Zimbabwe or Bangladesh in three years. 
The Black Caps are scheduled to play two Tests and an equal number of Twenty20 internationals against India before heading into the ICC World T20 championship in Sri Lanka in September.