The Delhi high court accepted the plea of former Commonwealth Games Organising Committee (OC) chairman Suresh Kalmadi and granted him bail on health grounds.
The court ordered his release on a personal bond of Rs 5 lakh and surety of the same amount.
- Analysis: Why the CWG has gone horribly wrong
Kalmadi was arrested nine months back in connection with a case registered against him and a few others for providing contract to a Swiss watch company to install the Timing-Scoring-Result system on prices that were five times of bids offered by the competitors.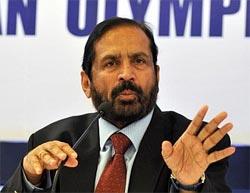 Kalmadi caused a loss of Rs 90 crore in his capacity as the chairman of the CWG OC took personal interest in awarding the contract to the Swiss company.
He is expected to leave Tihar jail by Thursday evening as he has sufficient time to organise execution of relevant papers and submit it before the court.
The Central Bureau of Investigation (CBI) had opposed the bail plea on the ground that since the charges in this case are yet to be framed Kalmadi should not be granted bail.
The court also granted bail to 2010 Commonwealth Games OC director general VK Verma.