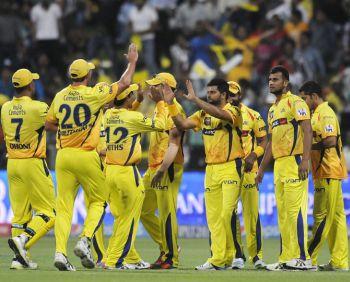 Troubled IPL franchises Chennai Super Kings (CSK) and Rajasthan Royals (RR) co-owner Raj Kundra have made their respective appeals to the Governing Council ahead of the eighth edition of the cash rich league.
"The IPL Governing Council today received a letter from CSK which states that they would cease to exist under India Cements banner and would now go under a trust," an IPL governing council member informed.
"The entire modalities of these change of ownership has been intimated. The Governing Council will certainly okay the proposal in due course of time," the source added.
The Governing Council also got a proposal from controversial RR co-owner Raj Kundra who has appealed to the council to allow him transfer his shares in the franchise and completely dissociate himself from the league.
"The committee will study Kundra's proposal and take a decision," the member said.
Tamil Nadu strongman and BCCI president in exile N Srinivasan met the members after the meeting at a city hotel.
"He was in jovial mood and looked very relaxed. Since the Supreme Court has allowed him to vote as a representative if there's an election, he seemed relieved," said the member, who spent some time with N Srinivasan.