Cricket South Africa (CSA) affiliates are divided over letting its chief executive Haroon Lorgat go to save the board from financial ruin in the on-going spat with the BCCI.
Though the CSA chairman Chris Nenzani clarified that Lorgat was not suspended and his removal related only to the allegations contained in the David Becker article and he remains responsible for all other areas of the board's operations.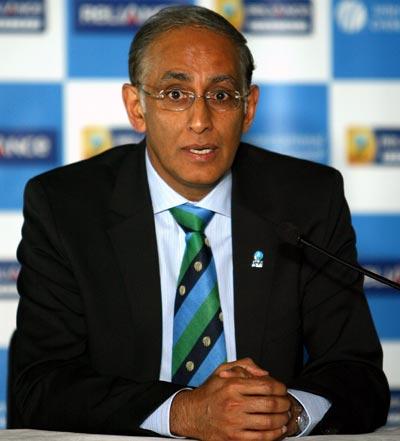 This emerged from a report in the weekly Sunday Times in which respected cricket writer Telford Vice alleged that Lorgat had asked him to hold back a report he had written on comments by former ICC legal adviser David Becker that offended BCCI.
Lorgat had asked for this because the report was due to be published the same weekend that top CSA officials, minus Lorgat, were trying to defuse the impasse with the BCCI.
Vice said Lorgat had told him: "What can I offer to share with you as compensation for not publishing this story for a week?"
Becker's remarks referred to BCCI president N Srinivasan encouraging unethical behaviour by administrators.
Lorgat had been at loggerheads with BCCI during his stint as chief executive of ICC, resulting in BCCI advising CSA not to appoint Lorgat as CEO earlier this year.
Although CSA went ahead, affiliates are now saying off the record that Lorgat needs to go to ensure the financial survival of CSA which depends hugely on the hugely lucrative Indian tour.
"We're already going to lose R200 million because India have shortened their tour to South Africa this season and if we're kicked out of the Champions League T20 next year that's another R10 million gone," the president of a provincial union told the Sunday Times.
"Is one guy worth all that? Not from where I stand, but there are lots of guys (in the CSA member's forum of provincial presidents) who are being dumb and difficult about this.
"If we need to pay (Lorgat) one or two million to walk away, then that's what must happen, otherwise people are going to lose their jobs in South African cricket. We need to understand that the BCCI are holding us to ransom and they won't back down until Lorgat goes. Maybe he's the right guy at the wrong time, but he has to go," he added.
The weekly said buying Lorgat out of his contract would cost CSA about R4 million, but this was a small amount compared to what CSA stood to lose if Lorgat stays.
Image: Haroon Lorgat
Photograph: Robert Prezioso/Getty Images