The trophy to be given to the winner of the tri-Series between Sri Lanka, India and New Zealand in Colombo is no longer just an inanimate object that will gather dust in a cricket boardroom cabinet.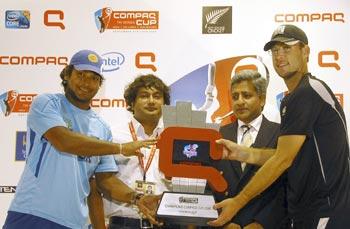 Rather, it will be the world's first digital silverware.
Tournament sponsors Hewlett Packard's Compaq Cup has broken new ground by incorporating an LCD screen into the 4.8kg award.
Match-winning moments for the triumphant squad, key statistics, photographs and fan messages will be uploaded once the winner has been determined so the holder will be able to revisit memories of their success, stuff.co.nz reports.
Fans can log on to www.compaqcup.com and leave messages of support for their favourite players and team; the top 10 entries decided by the television commentary team will also be uploaded.
The tournament starts on Tuesday when Sri Lanka play New Zealand.
New Zealand and India clash on Friday before Sri Lanka host their neighbours 24 hours later.
The top two teams contest Monday's final before all three head to South Africa for the Champions Trophy, which starts on September 22.