North eastern states set to play Ranji Trophy next year
The Committee of Administrators (COA) on Friday assured that all six north eastern states will be playing Ranji Trophy as individual units next season with Board of Control for Cricket in India GM (Game Development), Ratnakar Shetty, given charge of their smooth integration.
The six states Meghalaya, Manipur, Mizoram, Sikkim, Nagaland and Arunachal Pradesh met Vinod Rai for one and a half hour with plea of taking part as a combined unit this season.
However, they were assured that by next season they would be part of Ranji Trophy while they will play as separate states in the age group categories (U-16, U-19 And U-23) from this season onwards.
"The COA chief Mr Vinod Rai told us that since Ranji Trophy is starting from October 6, it will be difficult to play this season. However we will be playing as individual states from next season. After all these years, this is the first time we have got complete assurance. Prof Shetty will look into implementation part," north east convenor Naba Bhattacharjee said after the meeting.
Rai on his part said that NE states will be eligible to play once Supreme Court pronounces the verdict on their membership status.
"They will be eligible to play Ranji Trophy once Supreme Court decides on their full membership status," Rai told reporters after the COA meeting.
The good news is that COA has decided that U-16 National Championship (Vinoo Mankad) and U-23 (CK Nayudu Trophy) will have a specific North East Zone.
"The U-16 and U-23 BCCI tournaments are held zone wise. While Assam and Tripura continue to play in East Zone, a dedicated North East Zone will be created. The top two from the zone will qualify for the knock outs," Bhattacharjee added.
On junior cricket, Rai said:"I think junior (age-group) cricket has already been factored in."
The only problem is Cooch Behar Trophy (U19), whose scheduled has been already chalked out.
"The COA said that technical committee chairman Sourav Ganguly will take a call in this regard," he further added.
It was learnt that when the units requested for disbursement of annual grants, Rai instructed them to file an affidavit signed by their presidents that atleast 80 per cent recommendations of Lodha Panel is adhered to.
"We told COA that you don't need to disburse huge amounts to new units like us but enough funds to run the show," he added.
It was also learnt that Assam Cricket Association (ACA) has taken a bank loan of Rs 6 crore for organisation of the T20 international match between Australia and India at its newly constructed stadium in Barsapara.
The ACA currently doesn't get BCCI grants as there has been adverse reports of financial discrepancies found in its audited accounts.

Ganguly invites Sangakkara for Dalmiya memorial lecture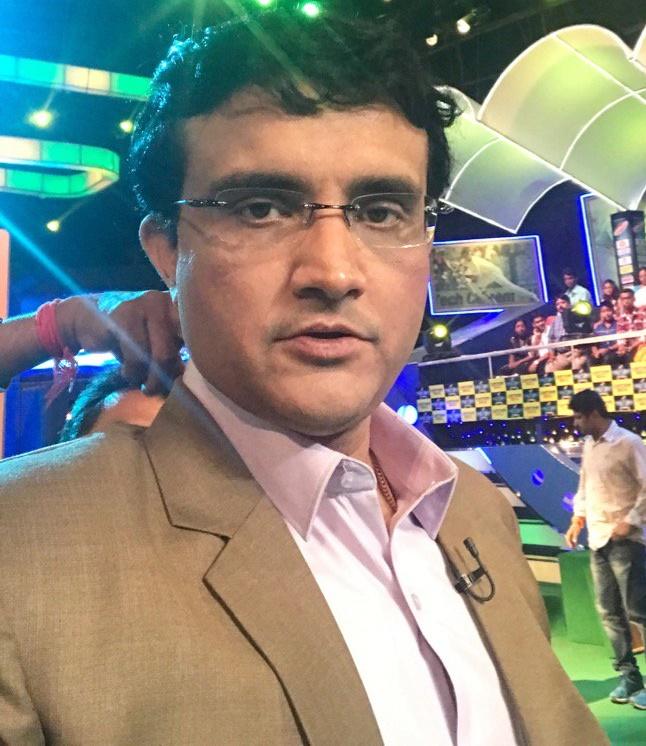 IMAGE: Sourav Ganguly. Photograph: Twitter.
Former India captain and CAB president, Sourav Ganguly, has invited batting great Kumar Sangakkara to deliver Jagmohan Dalmiya Memorial Lecture ahead of the India-Sri Lanka Test series in November.
"I have spoken to him (Sangakkara) for the Lecture and we will finalise the date soon," Ganguly told reporters.
The BCCI has its own MAK Pataudi Memorial Lecture and since Dalmiya was the longest serving CAB president, the state association felt it would be a fitting tribute for the iconic Indian cricket administrator who died on September 20, 2015.
Last year too, prior to the India-New Zealand Test in September-October, the CAB had planned to stage the lecture. But it could not take place, as it coincided with the BCCI special general meeting which kept all state associations busy.

Rahil Shah shines for TNCA President's XI
Left-arm spinner Rahil S Shah celebrated his call-up to the Board President's XI team to face the visiting Australians with a five-wicket haul for TNCA President's XI against Assam in the Buchi Babu All-India cricket tournament.
His performance (5 for 54) helped the home team restrict Assam to 176 in 61.5 overs Assam won the toss and chose to bat but failed to take advantage of the same despite half centuries by Ryan Parag (65) and Abhishek Thakuri (55).
In response, TNCA President's XI was 105 for 1 in 28 overs, needing 72 more runs for a win.
Another Tamil Nadu left arm spinner R Aushik Srinivas too fared well and scalped five wickets for TNCA XI, but K Sumanth's ton powered Hyderabad to 354 for nine in the allotted 90 overs.
In another match, Chhattisgarh made 350 against Mumbai riding on half centuries from Rishabh Chaubey, Amandeep Khare and Avnish Dhaliwal.
Brief scores: Assam 176 in 61.5 overs (Ryan Parag 65 (96b, 8x4, 2x6), Abhishek Thakuri 55 (139b, 7x4), Rahil S Shah 5 for 54, Malolan Rangarajan 3 for 40 versus TNCA President's XI 105 for one 28 overs (L Suryapprakash 35 batting, R Rohith 47 batting).
Saurashtra 296 in 89.2 overs (Snell Patel 26, Avi Barot 46, Harvik Desai 49, Sheldon Jackson 36, Jaydev Shah 26, Dharmendra Jadeja 53 not out (64b, 6x4s, 1x6), D T Chandrasekar 3 for 81, W Antony Dhas 2 for 32, R Sai Kishore 2 for 61) versus TNCA Districts XI.
Hyderabad 354 for 9 in 90 overs (Tanmay Agarwal 82 (141b, 10x4, 1x6), P Akshath Reddy 67 (87b, 9x4, 2x6), K Sumanth 103 not out (150b, 10x4, 1x6), K Rohit Rayudu 33, Mehdi Hasan 26, R Aushik Srinivas 5 for 103, S Kishan Kumar 2 for 110) versus TNCA XI.
Chhattisgarh 350 for 8 in 90 overs (Rishabh Choubey 70 (141b, 11x4, 1x6), Aishwarya Marya 34, Avnish Dhaliwal 64 (137b, 10x4), Amandeep Khare 92 (110b, 11x4, 1x6), Subham Agrawal 38 not out, Darshan Bandekar 2 for 28, Shams Mulani 3 for 100) versus Mumbai.