IMAGE: Curtly Ambrose, Brian Lara, Sourav Ganguly, Sachin Tendulkar, Jonty Rhodes and Jacques Kallis before the commencement of Game 2 of Cricket All-Stars in Houston, Texas on Wednesday. Photograph: Damodhara Jammli
It was Sachin and only Sachin all the way. The crowds screamed every time they saw him on the giant screen or on the grounds, displaying creative placards stating "God did show up on Diwali" and "In Sachin we Trust."
- Warne's Warriors too good for Sachin's Blasters in Game 2
When he came in to bat they surged to their feet unable to believe that they were seeing the Sachin Tendulkar in action. In Houston.
Unfortunately, the day chosen for the match was the actual day of Diwali and cricket starved Houstonians were in a dilemma about staying home with family and friends or going to watch their back-in-action cricket heroes. However the Minute Maid Stadium did gradually fill up to almost three fourths capacity, and according to the organizers by a 28,000 strong crowd, to watch international cricket legends play in a historic All Stars League Twenty20 format Series.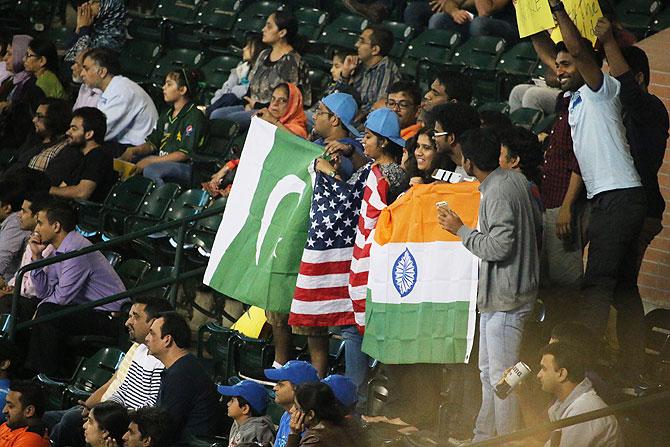 IMAGE: Indian and Pakistani spectators, came out with their respective national flags, mingled and sat together and cheered for their favourite players. Photograph: Damodhara Jammli
Some seemed almost apologetic about being there while others were more pragmatic about this once in a lifetime opportunity. Or as Ketan put it "We are celebrating Diwali with Sachin and are expecting fireworks on the ground today."
However India Abroad learnt that several prominent members of the community could not make it because of this clash of dates. Sanjay Jain told India Abroad on Tuesday that he "was going to buy a ticket but didn't when he realized it was on the same day as Diwali."
This was the second match in a set of three to be played in the US between the Blasters captained by Sachin Tendulkar and the Warriors by Shane Warne. In Game 1 played in New York on November 7th, Warne's Warriors beat Sachin's Blasters by six wickets with 2.4 overs to spare.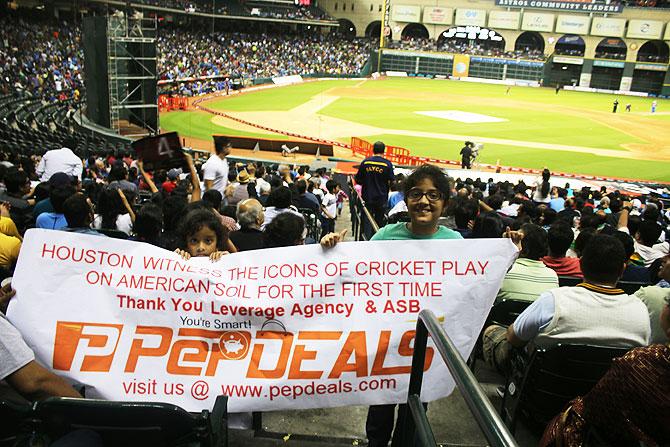 IMAGE: The fans thanking the event organisers. Photograph: Damodhara Jammli
The crowd which consisted mainly of desis, seemed to be rooting for Sachin's Blasters to win this round.
The Blasters won the toss and elected to bowl. Warriors' openers Michael Vaughan and Mathew Hayden led the charge accumulating 51 runs off the first 6 overs until Swann trapped Vaughan (30) plumb in front.
Hayden kept pounding away at the other end with two huge sixes, but followed Vaughan back to the pavilion shortly.
South African Jacques Kallis and Sri Lankan Kumar Sangakkara were the two new batsmen at the crease and the rode out a few close calls and a missed catch as the Warriors sailed to the 100 run mark in the 10th over.
A few sixes later, Kallis was bowled out off Virender Sehwag's bowling caught by Muttiah Muralitharan. Next in line Ricky Ponting was caught behind the wicket for 41 runs. A clean catch by Shoaib Akhtar dismissed Warriors' highest scorer Sangakkara for 70 runs.
Andrew Symonds with Jonty Rhodes finished the innings by adding 37 runs to the tally for a final score of 262 for 5 wickets.
It was clearly not going to be a cakewalk for Sachin's Blasters who faced the monumental task of chasing 263 to win.
Scorecard: Michael Vaughan (30) Matthew Hayden (32) Jacques Kallis (45) Kumar Sangakkara (70) Ricky Ponting (41) Andrew Symonds (19) Jonty Rhodes (18)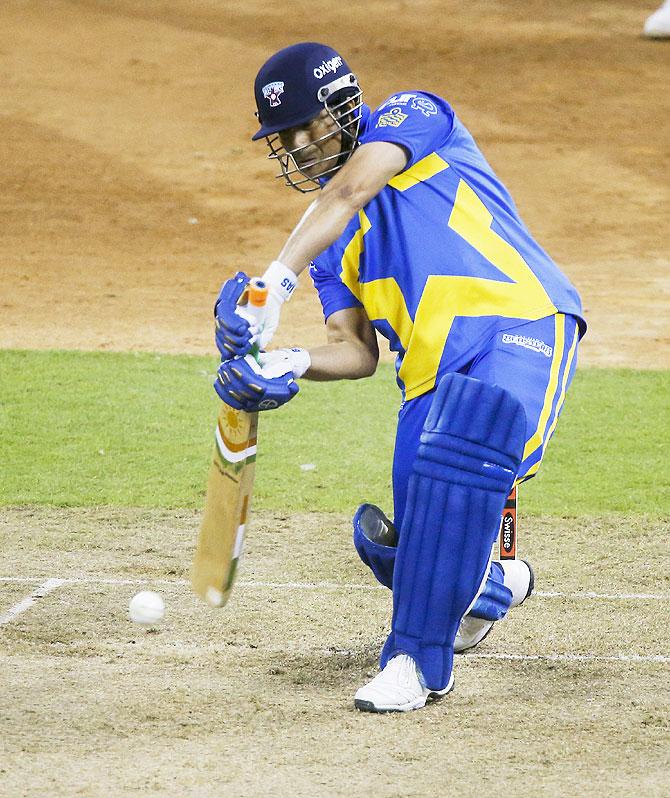 IMAGE: Sachin Tendulkar bats during Game 2 of the Cricket All-Stars match at Minute Maid Park in Houston, Texas. Photograph: Bob Levey/Getty Images
The atmosphere on the grounds among the players came across as more relaxed than competitive, more entertainment than rivalry but the crowds loved every minute of it. They were now looking forward to the second part of the match.
The Blasters responded by opening with the "God of cricket" and the flamboyant Sehwag. The entire stadium surged to their feet to launch a deafening roar: clapping, dancing, whistling and one holding a placard "Diwali begins now."
However the team faced an early crisis with the fall of Sehwag, bowled out after only 16 runs and Saurav Ganguly caught for 11 runs.
Tendulkar whacked some sixes much to the delight of the crowds for this is just what they had come to see. But all too soon a leg spin delivery by Saqlain Mushtaq had Sachin hitting his bat on the ground in dismay. He was bowled out -- a huge setback for the Blasters and his exit did dim the enthusiasm among the crowds slightly.
Mahela Jayawardene didn't stay too long while Brian Lara struggled to keep the runs coming. The middle and lower order could not revive the game even with occasional fours and sixes and it was a matter of time before Sachin's Blasters conceded defeat losing by 57 runs.
Scorecard: Virendra Sehwag (16) Sachin Tendulkar (33) Saurav Ganguly (12) Brian Lara (19) Mahela Jayawardene (5) Lance Klusener (21) Shaun Pollock (55) Graeme Swann (22) Shoaib Akhtar (0) Muttiah Muralitharan (8).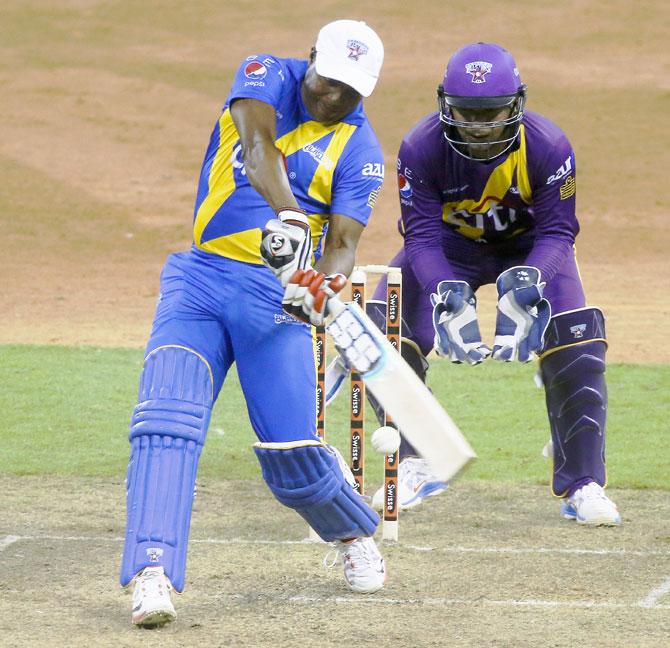 IMAGE: Brian Lara bats as Kumar Sangakkara looks on. Photograph: Bob Levey/Getty Images
In a post-match press conference, an aggrieved radio jockey asked Saqlain Mushtaq: "How could you do this to Sachin?" A smiling Mushtaq replied that he "just got lucky."
Warne and Tendulkar reiterated the purpose of these matches which was to "promote the game and motivate as many youngsters to pick up the bat."
Kumar Sangakkara added that they had come to "sow the seeds and hoped that Americans will embrace the sport."
When Sachin was asked the reason for the Blasters losing the second match too, he candidly replied that "Sangakkara batted really well and the Warriors bowled better than us."
Despite the disappointment about the Blasters losing to the Warriors, it was an evening and a match no one was likely to forget in a hurry but fans can check out the final clash between the two teams at Dodgers Stadium in Los Angeles on November 14th.
- All-Stars PHOTOS: 'Celebrating cricket' as legends turn back the clock