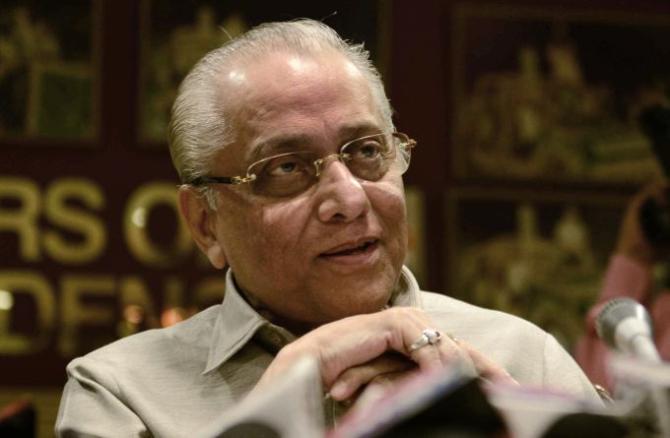 IMAGE: Jagmohan Dalmiya is responsible for making the Board of Control for Cricket in India one of the world's richest sports bodies.

The International Cricket Council condoled the sudden death of Board of Control for Cricket in India president Jagmohan Dalmiya, saying "cricket has lost a very experienced and seasoned administrator" in him.
- BCCI chief Jagmohan Dalmiya passes away
"The ICC is shocked to hear Mr Dalmiya's passing away. He was an ICC president whose contributions to the ICC, BCCI and world cricket are meritorious. With Mr Dalmiya's death, cricket has lost a very experienced and seasoned administrator," read a statement from the ICC.
One of cricket's most influential administrators who will be remembered for bringing money into the game, Dalmiya passed into the ages at a Kolkata hospital on Sunday evening following massive cardiac arrest.
The 75-year-old, who was admitted to the city's B M Birla Hospital on Thursday night, is survived by his wife Chadralekha, daughter Vaishali and son Abhishek.
In a condolence message to the family, friends and the Board of Control for Cricket in India, ICC chairman Narayanswami Srinivasan said Dalmiya will be long remembered for his invaluable contribution to cricket.
"I am saddened with the passing of Mr Dalmiya. He was a visionary cricket administrator who dedicated his life to cricket. Cricket flourished in India during his tenures as the BCCI President, while global cricket got stronger when he was the ICC President. Cricket has lost one of its most loyal, committed and dedicated servants," said Srinivasan.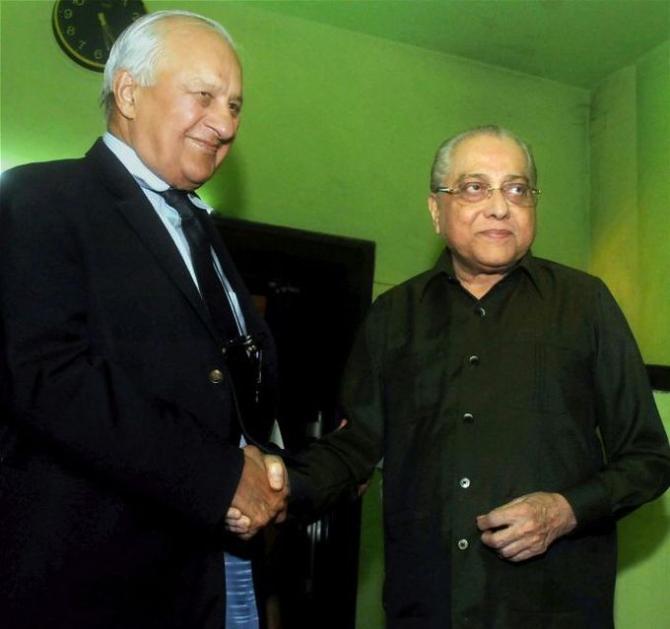 Jagmohan Dalmiya with Pakistan Cricket Board chief Shaharyar Khan. Photograph: PTI
A long-serving cricket administrator, Dalmiya wasn't keeping well for a while now and did not actively take part in the day-to-day functioning of the BCCI.
ICC Chief Executive David Richardson said: "Mr Dalmiya was widely appreciated for his dedication to the game and the respect with which he always treated the players and his fellow administrators from around the world.
"It was under his watch as ICC President that the game first took the globalisation seriously with the launch of the ICC Knock-Out tournament (now known as the ICC Champions Trophy), the revenue from which was reinvested into cricket development around the world.
"Cricket can't thank Mr Dalmiya enough for his significant contribution. On behalf of the ICC, I extend my condolences to all those associated with Mr Dalmiya."
Dalmiya took over the reins of the BCCI for a second time in March, after a gap of 10 years, when he got a walkover in the elections. He was ailing since then and his health deteriorated over the last few weeks.