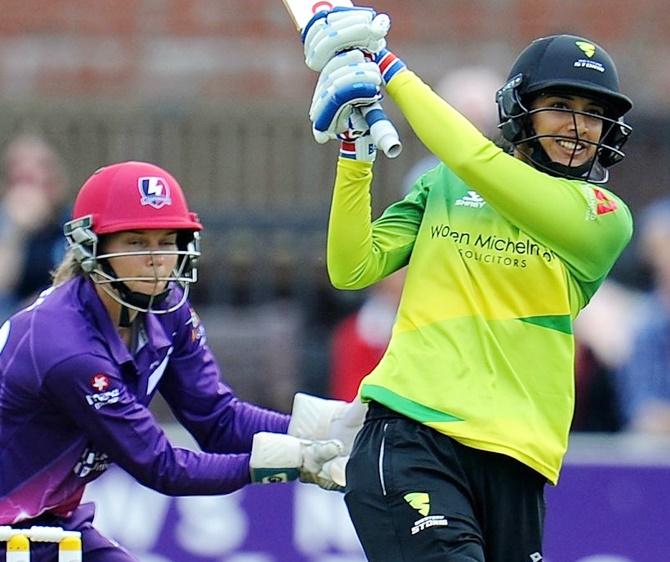 Indian opener Smriti Mandhana continued her impressive run in the Women's Cricket Super League with an unbeaten 43 off 27 balls, propelling Western Storm to a nine-wicket win over Southern Vipers, in Arundel, on Tuesday.
Vipers were 91 all out in 18.1 overs, a target West Storm raced to in 9.3 overs.
Mandhana was in ominous touch as she has been all through the tournament, having scored 48, 37 and a record equalling 52 not out in the first three games.
Her unbeaten fifty in the previous game was enough to equal the record of the fastest half-century in the competition history.
The Indian shared an unbeaten 54-run stand alongside Rachel Priest of New Zealand to fashion an emphatic win for Western Storm.
Ranatunga, Aravinda dismiss fixing charges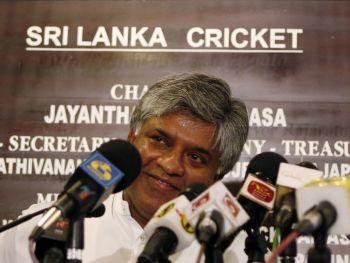 Former captain Arjuna Ranatunga and his 1996 World Cup winning team-mate Aravinda de Silva, on Tuesday, denied the allegation made by former Sri Lanka Cricket chief Thilanga Sumathipala that they had accepted $ 15,000 from an Indian bookie to throw games in 1994.
"We have never taken bribes and we have never fixed matches," Ranatunga told reporters in Colombo in the presence of de Silva. Both denied they had ever taken bribes to throw matches.
Sumathipala had alleged that Ranatunga and de Silva were the first Sri Lankan players to have been charged of match fixing. He said he was blamed for hushing up investigations.
"If I was someone to fix matches, why did he (Sumathipala) have me in his Cricket Committee?" asked de Silva, who had served the SLC under Sumathipala's presidency in the past.
De Silva said he did not take the allegations seriously.
Sumathipala had said de Silva had been paid $ 15,000 by an Indian bookmaker to lose the Lucknow Test of 1994. Sri Lanka lost the match by an innings and 119 runs.
"Not 15,000 dollars, but we could have made 15 million dollars if we threw the World Cup," Ranatunga said, adding they never played for money but were committed to the game and upholding the honour of the country.
Sumathipala was reviving a decades-old accusation. In 2001, both Ranatunga and de Silva were cleared of the fixing charges by a committee headed by legal luminary Desmond Fernando.
Seeking funds for infrastructure, NE states to meet BCCI brass
With only a couple of months left for Ranji Trophy to begin, the representatives of six North Eastern states will meet the BCCI bigwigs tomorrow, seeking release of funds for upgrading the current infrastructure.
The representatives of Sikkim, Manipur, Meghalaya, Mizoram, Nagaland and Arunachal Pradesh will meet BCCI's GM (Cricket Operations) Saba Karim along with members of Task Force (NE) to discuss the prevailing issues ahead of their maiden first class season.
"The Task Force team had come for inspection and noted all the problem we were facing. Right now, we need funds to upgrade the grounds. We need to prepare the pitches, renovate the dressing rooms as per first class standards," Meghalaya Cricket Association top boss Naba Bhattacharjee said.
"We would also require help of good coaches and for that we need to give them good remuneration. The preparation of good turf pitches will require decent money," he said.
He informed that Sikkim will play their home matches in Siliguri (North Bengal) as their ground won't be ready.
"Apart from Meghalaya, Mizoram, Nagaland and Manipur have their own ground but it will take some time to get those ready. We might request the neighbouring states to allow some of our home matches on their spare grounds," Bhattacharjee added.
On a different note, he expressed his displeasure at Telangana Cricket Association's plea to BCCI to stop North Eastern states from playing Ranji Trophy
"The Telangana CA secretary should mind his own business. Can he even locate Meghalaya, Manipur or Mizoram on India map? Who is he to question our competence. He should concentrate on his association," an angry Bhattacharjee, who is also the convenor of North Eastern state associations, said.