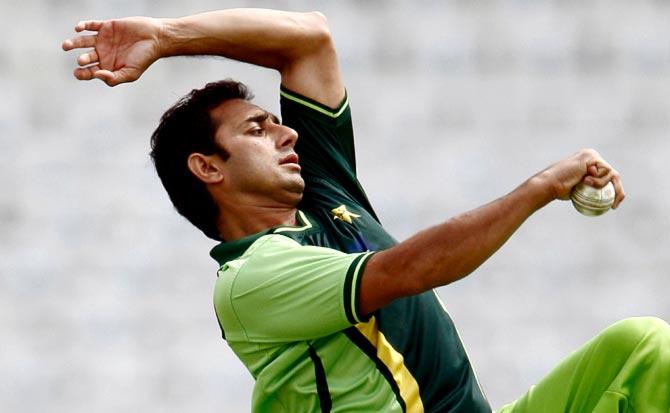 IMAGE: Pakistan off-spinner Saeed Ajmal. Photograph: Graham Crouch/Getty Images
Pakistan's ace spinner Saeed Ajmal has brought the curtains down on his cricket career with a "heavy heart", criticising the ICC's protocol to assess bowling actions on his way out.
After a successful but controversial career, off-spinner Ajmal finished with 178 wickets in 35 Tests, the last of which was at Galle in Sri Lanka in 2014, where his bowling action was reported for a second time.
His action was first reported during an ODI series against Australia in the UAE in 2009.
His time in the limelight cut short following a temporary ban for chucking, Ajmal returned to the sport in 2015 with a remodelled action but without much success.
"I am retiring today and at 40 years of age I thought it is now time for me to make way for younger players. I got this feeling I was being considered extra baggage even in domestic teams and I didn't want to go out losing my respect," Ajmal told PTI in an interview.
"I am retiring with a heavy heart because, firstly, I think the ICC's protocol is too harsh and if all bowlers today playing international cricket are tested I am sure at least 90 percent will fail to clear this protocol," Ajmal said.
He felt that if the Pakistan Cricket Board had fought his case more vociferously at the ICC, he would have left a satisfied man.
"The board did support me after my bowling action was declared illegal but I think they could have done more at least using my case to challenge this protocol at the ICC level," he added.
Asked what issues he had with the ICC protocol, Ajmal said it didn't take into account the fact that some bowlers had natural medical issues with their arm while some may have developed problems after some accident.
"To be honest if you talk about the current extension of the elbow allowed I don't think many of the current bowlers meet the ICC standards all the time. Some relaxation has to be allowed on medical grounds."
Ajmal has always claimed that a road accident caused his arm to bend to some extent.
Ajmal, who called it quits after leading Faisalabad in the National T20 Championship, said he wished his last match was at the international arena.
"I always enjoyed the challenge of international cricket and it would have been ideal to retire with a match for Pakistan."
The spinner called on the PCB to devise a programme to save spinners in Pakistan from extinction.
"This ICC rule threatens the careers of spinners and in Pakistan the board needs to do extensive work on helping and assisting bowlers with any problems. I am willing to offer my
services if they ask me to do something.
"We are struggling to find off-spinners in Pakistan and that is because since 2014 even in our domestic cricket our authorities have just panicked and reported and banned bowlers by dozens.
"Some of these bowlers had potential to become great bowlers but no one has bothered to even see where they are and some of them have even left cricket."
Ajmal said that while the Pakistan Super League was a great project, the PCB must not ignore domestic cricket.
"We must never forget that eventually our players will come from domestic cricket not PSL. The board needs to give more importance to domestic cricket."
Ajmal said he had completed level two coaching and would remain in touch with the sport by coaching youngsters.
England's Stokes signs with New Zealand side Canterbury
Ben Stokes has signed a short-term deal with New Zealand province Canterbury in a move certain to fan speculation that the suspended all-rounder is in line for a recall to England's Ashes squad.
Stokes was omitted from the touring party and remains suspended pending the outcome of a police investigation into an incident outside a Bristol nightclub in September.
Police are seeking advice from Britain's Crown Prosecution Service over whether to bring charges against Stokes following their probe into his arrest on suspicion of causing actual bodily harm.
Canterbury Cricket Association (CCA) Director of Cricket Gary Stead confirmed Stokes had been signed as an overseas player and would be available to play in a one-day match against Otago on Sunday in Rangiora, a small town near Christchurch.
"After the approach from Ben's representatives everything has happened very quickly for us to the extent that we are now delighted to welcome Ben into the team," Stead said in a statement on Thursday.
"While Ben awaits the outcome of an investigation underway in the UK, he wants to maintain his fitness and his connection with the game."
The CCA said the signing had been agreed by the England and Wales cricket board and sanctioned by New Zealand Cricket.
New Zealand-born Stokes arrived at Christchurch airport on Wednesday and said he was back to visit family but declined to comment on his cricket plans.
England lost the first test in Brisbane by 10 wickets without their star all-rounder. The second starts in Adelaide on Saturday.