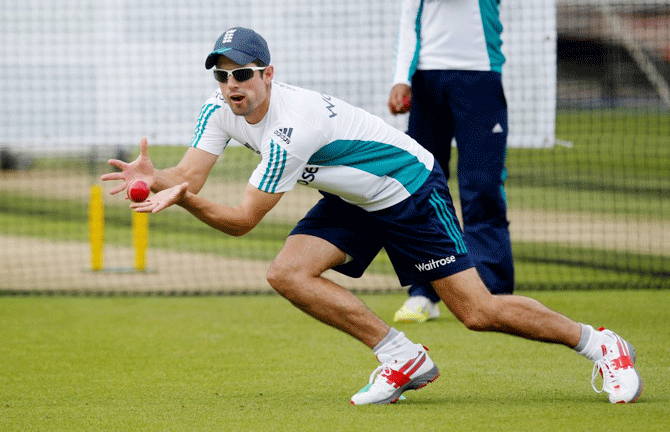 IMAGE: England captain Alastair Cook at a training session. Photograph: Paul Childs/Action Images via Reuters/Livepic
England captain Alastair Cook played down speculation that the upcoming Test series against India could be his last as skipper.
British media was abuzz about Cook's future after a magazine interview quoted the skipper as saying that he does not know how long he could carry on at the helm.
England's captain since 2012, Cook sought to clarify his position in the pre-match press conference of the opening Test against India starting in Rajkot on Wednesday.
"I have given quite an honest answer to a question which is hard to answer, when someone says how long you see yourself captaining the side. I said I really don't know, it could be two months, could be at the end of this series, six months or the end of the next one or two years. That's the kind of answer I gave (on which) obviously headlines have been made of. It will be a series by series judgment, it always has been," Cook said on Tuesday.
"Someone has made a mountain out of a molehill. It has not been a disruption. I gave an honest interview to an interview question. As always, it has been blown out of proportion. My situation has not changed. No one has talked about it in the dressing room, no one has asked me. It's business as usual," he added.
Cook will surpass Michael Atherton's record of captaining England in 54 Tests when he leads the team out in the opening Test on Wednesday.