BCCI joint secretary and Himachal Pradesh Cricket Association (HPCA) boss Anurag Thakur is confident about bringing Test cricket to the picturesque HPCA Stadium as he will push for ICC approval during the India-West Indies ODI scheduled to be held on October 17.
"We have successfully hosted IPL and ODI matches and I am confident Dharamsala will host its first ever Test soon. The ICC needs to approve the venue for the longest format. Since it (ICC) gave a green light to ODIs here, I don't see a reason why it will think otherwise on organisation of Test matches here," Thakur said.
Thakur said he has already discussed the prospect with his colleagues in the BCCI.
"The BCCI's response has been positive but as I said we can't move forward without the ICC nod. I am pushing for an ICC inspection with the ODI next month. The match referee who will be here can also the inspect the venue," he said.
The scenic venue is all geared up to host its second ODI in two years time after its international debut in January 2013 when India lost to England. It has also staged a bunch of IPL matches since 2010 and is now recognised as one of the most beautiful cricket grounds in the world.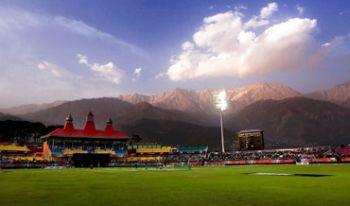 India would not a host a Test match anytime soon post the three-match series against the West Indies that follows the five math ODI series beginning October 8 in Kochi.
Dharamsala anyway will vie for a Test status alongside Ranchi and Cuttack, which have already been inspected by the ICC and awaits BCCI ratification during its AGM in November.
Regular top-flight cricket in Dharamsala has increased the hill station's popularity besides giving a boost to the local economy.
However, organisational challenges remain with lack of a five star hotel and limited connectivity from big cities around India. The HPCA is also locked in a legal tussle with the state government for alleged irregularities including a land issue.
As of now the state cricket association houses teams in its premises but arranging an accommodation is not easy for other stakeholders during IPL or an international game.
"There are a few commercial flights but we need to have a lot more of them. Accommodation is another area where Dharamsala can improve. There is still no five-star facility here," said Thakur.