Jacques Kallis's new look makes him look 20 years younger, feels teammate Morne Morkel. And, what is this new change that is getting Kallis so much attention?
If one has looked carefully, it's the veteran South African batsmen's new growth of hair that has garnered him the compliments. Kallis recently underwent hair transplant therapy for his receding hairline.
Kallis is not the first players in the cricketing fraternity to have gone for a hair transplant. India's very own Virender Sehwag had undergone the same treatment a couple of seasons back.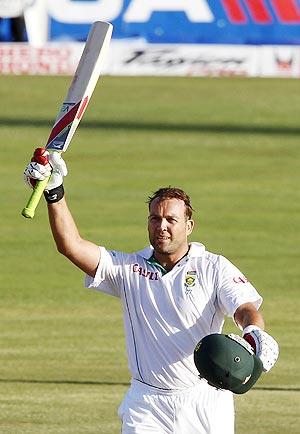 "Gosh…he is looking 20 years younger now," quipped Morne Morkel.
"He wants to bowl in the opposite direction of the wind. He is enjoying feel of fresh air running through his hair," Morkel said with big smile on his face.
"I have had the pleasure of sharing the dressing room with Jacques Kallis in IPL as we were playing for the same team (Royal Challengers Bangalore) for the last three years. Just by observing him, one can easily get an idea why he is so successful," complemented Rahul Dravid.
"And now his new look with a 'breath of fresh hair.' He is looking good. I guess Jacques must be spending lot of time in front of the mirror," added Rahul Dravid.
"Hair or no hair….runs are coming though. His hunger and flow of runs is absolutely the same," said Dravid.
Former India captain Sourav Ganguly was once quoted as saying "We have not seen Sir Gary Sobers live in action. We have heard so many stories of his greatness. Those who played against Sir Gary vouch that he was greatest all rounder cricket has seen.
"But for me Jacques Kallis is a far better performer. Just look at the statistics and you will agree with me."
Legendary South African batsman Graeme Pollock is of the opinion that, "Shaun Pollock will go as a good all-rounder but statistics will prove that Jacques Kallis will go down as the greatest all-rounders of all time."