Gauri Ghadi confesses to being a huge Sachin fan to the point of being silly
What is better than watching Sachin Tendulkar bat?
Watching Sachin bat at the Wankhede.
And what is even better than that?
Watching Sachin at the Wankhede in his final test!
Yes, I am Sachin-struck. So kindly excuse the mush!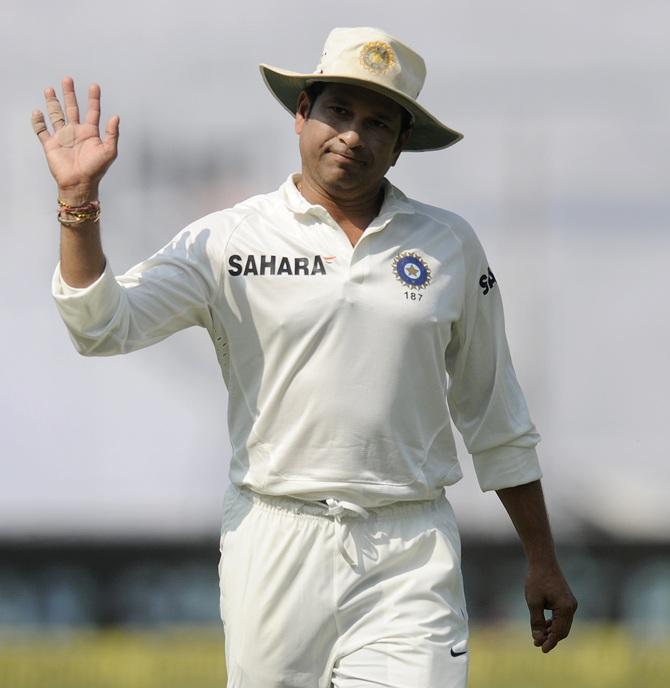 When I'm asked, "Are you a Sachin fan?" I instinctively reply, "Who is not?"
I grew up in the Sachin era. I do not know what cricket is without that wonder.
From being the girl who loved Sachin because her daddy did, to that teen who gushed over the guy to the point of being silly and scribbled his names on school textbooks, to admiring him for his excellent technique, his distinct style and his humility, I have come a long way.
But a few things remain unchanged.
I always keep my fingers crossed each time Sachin comes to bat. And I take my eyes off the screen when he faces a ball. All of this lacks logic, but I have been too scared to jinx his game.
I am embarrassed to admit this but I have NEVER seen Sachin bat in real time.
So when I was asked to cover his final game, I faced a dilemma of sorts. I could not say no for I would sound stupid.
And I did not want to say no for who does not want to be a part of history, however minuscule that part may be.
So, after a jittery night, I headed for Wankhede. As I stepped in, all my inhibitions disappeared.
I realised that -- forget being his biggest fan -- I wasn't half as Sachin-crazed as others there.
And I also realised that I, or anyone else, did not have the power to jinx superhero Sachin.
So I made up my mind to sit back and enjoy the extravaganza.
Sachin came in. He played one master stroke after another. My eyes, like those of my fellow Wankhede revellers, were glued to him; my fingers remained crossed through all of it.
I had finally watched Sachin play in real time in what could probably be his last tryst with the willow!
He scored a sound 74. For me, that was the best of Sachin. As I saw him walk off the field, I realised it was the last of him as well.
I was overwhelmed, I was nostalgic. I got a strange feeling in the pit of my stomach that simply refuses to die down.
It's that feeling of the post-Sachin era kicking in. Cricket, for me, will never be the same again.
Sachin, you will be missed.
Everyone has a favourite Tendlya (that's what we call him at home) story. This one is mine.