'There shouldn't be a atmosphere of fear in the dressing room. When the players are not made to feel secure how can they perform for the country'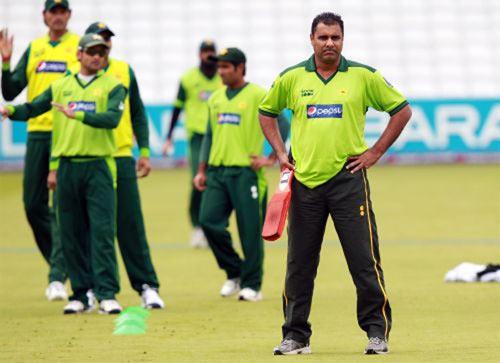 IMAGE: Waqar Younis (Right) with Pakistan players. Photograph: Jan Kruger/Getty Images
Pakistan stalwarts Younis Khan and Abdul Razzaq have blamed head coach Waqar Younis for the recent slide in the performances of the national team in ODI and T20 cricket.

Younis minced no words at a function in Karachi in blaming Waqar for spreading uncertainty in the team.

"There shouldn't be a atmosphere of fear in the dressing room. When the players are not made to feel secure how can they perform for the country," Younis said.

"I think that person should be coach of the Pakistan team who can keep the players united," Younis said.

Younis said that one reason for the recent failures was the induction of many young players and not allowing a combination to settle down.

He said that there was a time when Pakistan was the top T20 side but now T20 cricket had undergone changes and every team now took it seriously.

"They are several teams now capable of beating us in this format."

Asked about the statement of former captain Muhammad Yousuf that there was a need to have foreign coaches for the Pakistan team, Younis said he just felt that whether the coach was a local or foreigner he should be someone like the late Bob Woolmer.

Woolmer remained coach of the Pakistan team from 2004 to 2007 before he passed away during the World Cup in Jamaica.

Asked about his decision to retire abruptly from ODIs, Younis again took a pot shot at Waqar.

"If I was the coach and Waqar retired like me I would be happy that someone atleast had guts to take decision to retire when we don't have this culture.

"So I would think such a decision would give happiness to Waqar and I have no regrets over my decision to retire," Younis said.

Razzaq also said that the poor performances of the team in ODIs and T20 was a clear indication that the coach was responsible.

"If I say something the board thinks we are criticizing them but I think they just need to look at what has happened in recent months to realize where we are going wrong."

"Players need to be given confidence and respect if that is missing from a coach how can you expect results."