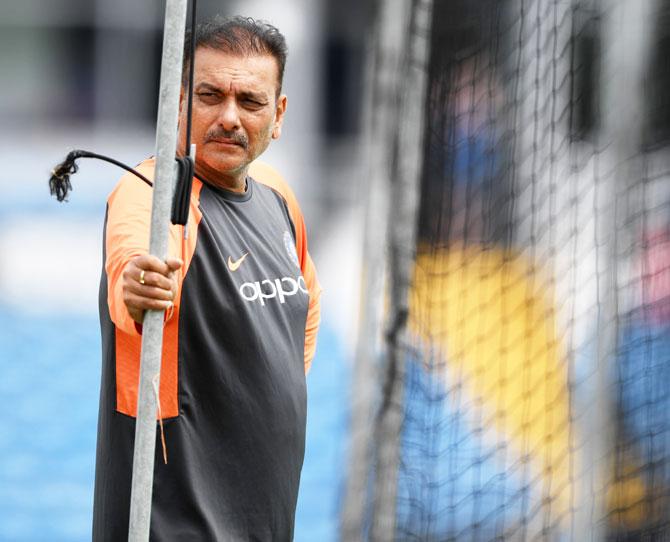 India head coach Ravi Shastri could not keep his emotions in check after the historic first Test win at the Adelaide Oval and made a tongue-in-cheek comment on national television that quickly went viral on social media.
Speaking to Sunil Gavaskar, Michael Clarke and Mark Butcher, who were discussing the game in a television studio in Mumbai, Shastri came up with a rather interesting way to describe the tense moments of the game with Australia almost pulling-off a record chase.
"I just said in Hindi just a little while ago bilkul chhorenge nahi ... Lekin thodi der ke liye wahan g*** muh mein tha (we will go for the kill ... but for sometime we had our **** in our mouths)," said Shastri on air, describing his feelings after the hosts showed a lot of fight on day five and fell just 31-run short of the 323-run target.
To this, former Indian cricketer Sunil Gavaskar reacted, "Well that's alright."
The coach was expectedly happy with the hard-fought victory, also India's first in the opening Test of a series in Australia.
Moments after he expressed his feelings to Gavaskar and Co, his comment set the social media world abuzz.
"Did Ravi Shastri just say 'thodi der ke liye G*** Muh mei tha' on national TV. Oh yes he did," wrote Abijit Ganguly on Twitter.
"Ravi Shastri the real Man of the Match #goti," read another post.
Shastri's comment garnered mixed reaction from Twitter users, one tweet read, "Ravi Shastri has surpassed himself."
Another user included the head coach's comments in the top highlights of the Test match, "Highlights of the first #AUSvIND test : 1. @cheteshwar1 Pujara's 123 runs 2. @imVkohli dance moves 3. @RishabPant777 sledging @patcummins30 4. Ravi Shastri's "G*** MUH ME THA" comment."
"Ravi Shastri is really drinking or smoking some good stuff there...am jealous! I mean this is way better than calling present Indian team best ever!" said another post on the micro-blogging site.
"One win and all of a sudden Ravi Shastri has gone from villain to legend LOL," another tweet read.
The former India all-rounder is also a seasoned commentator and was a familiar figure on the mic before taking charge as India coach.
India, with a lead of 1-0 in the four match series, will lock horns with Australia in their second Test from December 14-18 at Perth.