I have not seen anyone that professional in terms of looking after his fitness: Kumble on Kohli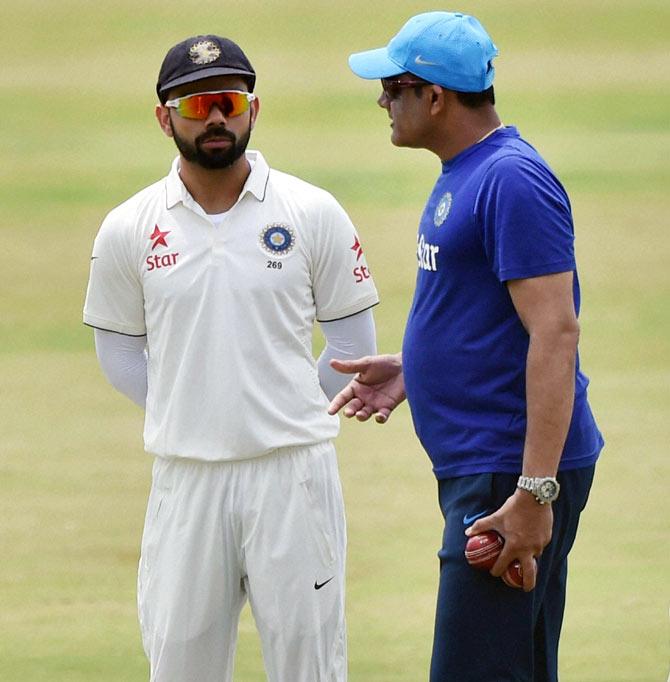 IMAGE: India's Test skipper Virat Kohli, left, with coach Anil Kumble during a training session in Bengaluru. Photograph: PTI.
After completing his first assignment as coach of the Indian team by winning the 4-match Test series 2-0 in the West Indies, Anil Kumble has a special praise for his captain Virat Kohli and ace spinner Ravichandran Ashwin.
Having witnessed Kohli's progress since his formative years, Kumble admits he's extremely impressed by the dedication of India's star batsman.
"The last time I saw him closely was in 2012 (with Royal Challengers Bangalore)," Kumble said, referring to the Indian Premier League franchise he captained and then later mentored.
"And from there to 2016, there has been a massive difference for the good.
"I have not seen anyone that professional in terms of looking after his fitness, his work ethic and in terms of his preparation.
"He wants to be the best and he leads from the front. He was brilliant on the (West Indies) tour."
Ashwin had picked most number of 17 wickets in the series and also scored a vital century which helped him rise to No.3 in the Test all-rounder rankings.
"There was a conscious decision from the management to push him up the order," Kumble said of the off-spinner.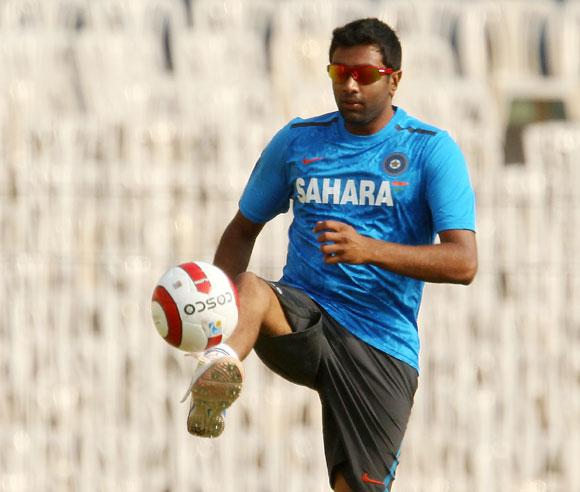 IMAGE: India's Ravichandran Ashwin.
"Ashwin has shown in his career that he is capable of batting higher up in Test match cricket. Credit to him, he grabbed it by scoring two hundreds.
"You can't ask for a better all-rounder in the team where he goes, gets hundreds, then picks up a five-for and wins matches.
"This home season, you want him to play all those 13 Tests and pick up tons of wickets."
Kumble also commended promising young batsman K.L. Rahul, who made 158 in the second Test after only receiving a call-up because of an injury to opener Murali Vijay.
The right-hander then demonstrated his versatility in the Twenty20 International series in Florida, notching a remarkable 51-ball 110 not out the second match.
"(Rahul) has been brilliant,"" Kumble said. "In the West Indies, he came in as a replacement for Vijay and seized that opportunity.
"In his short career, he has shown that he can score hundreds in Australia, Sri Lanka, West Indies and what was really heartening was that he could adapt to T20 and score a hundred. "It goes to show that he has the game and he also has the mind to adjust at this young age.
"It really augurs well for Indian cricket."