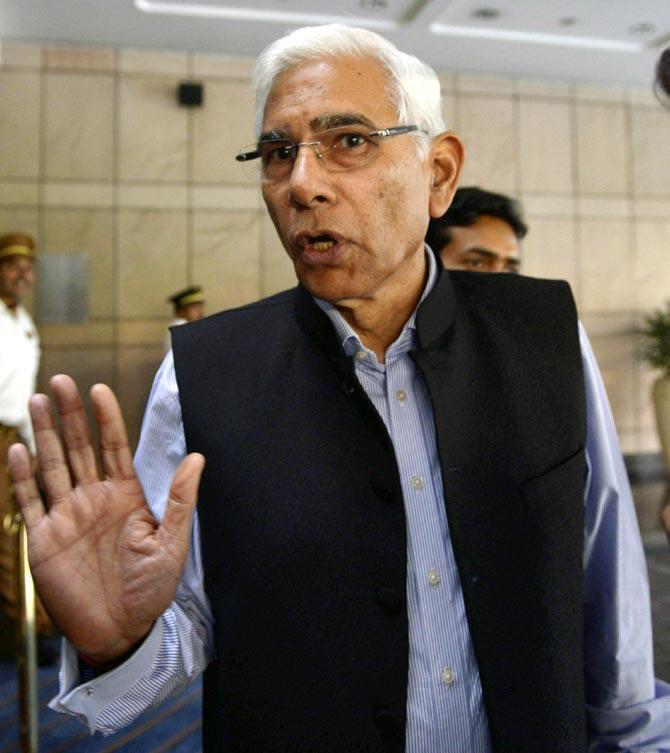 The Committee of Administrators chief Vinod Rai, on Thursday, welcomed the Supreme Court order on mandatory cooling off period for Board of Control for Cricket in India office-bearers after two consecutive terms and for putting a roadmap in place for the Board's elections.
The original Lodha Committee reforms suggested only one term of three years before mandatory cooling off but Thursday's order allows office-bearers two consecutive terms before the mandatory cooling off.
''This is an excellent order by the Honourable Court. I have absolutely no problem with office-bearers having two consecutive terms. Even I had originally wanted a six year term before cooling off period but couldn't get consensus,'' Rai said on what is being seen as the most significant aspect of Thursday's order.
Rai said another positive to come out today is the time-line set by the apex court for the adoption of the approved BCCI constitution, which will also pave the way for the Board's elections provided there is 100 per cent compliance by the state associations.
The state units have been today warned by the SC to either comply or face action.
''Now we finally have a roadmap in place which will lead to adoption of the new constitution and subsequently elections. Now there is a time-line in place,'' Rai said.
He also expressed satisfaction that all the original members have retained their voting rights.
The SC bench, headed by Chief Justice Dipak Misra and comprising justices A M Khanwilkar and D Y Chandrachud, restored the permanent membership of Railways, Services and Universities and granted membership to Mumbai, Saurashtra, Vadodara and Vidarbha.
''We had maintained that legacy units like Mumbai should retain their voting rights. The draft constitution also mentions that. Every member unit should have voting rights,'' the former CAG said.
"Now the SC ruling will ensure that state units will have to comply with the order by deadlines or else COA can move court,'' Rai signed off.
Another COA member Diana Edulji also welcomed the latest order.
"We are happy with the judgement. We were appointed by the Supreme Court in the first place to oversee reforms. Now that SC has modified its order, we will have to see that it is implemented properly. I hope everybody will comply and cricket will move on," she said.
"We did not having anything personal (against any BCCI official). We were nominated by the SC to do a job and our focus has always been on that," she added.
State associations hail SC order on Lodha reforms
Various state associations, including Mumbai and Saurashtra, on Thursday hailed the Supreme Court's decision to reinstate their voting rights in the BCCI.
The apex court on Thursday modified its earlier order on the 'one state, one vote' policy for BCCI members, reinstating the memberships of Mumbai, Saurashtra, Vadodara and Vidarbha, whose voting rights were taken away by the Lodha committee.
Welcoming the order, Vidarbha Cricket Association (VCA) President Anand Jaiswal said justice has been done.
"It's a welcome judgement which has come, which has done justice to all these associations which have contributed a lot to development of cricket in all these years and it would have been a travesty of justice had such members been only full members by rotation," Jaiswal told PTI.
"Imagine Mumbai is left out or Vidarbha, which is Ranji and Irani Trophy winner (is) not a full member (of the Board), it could have been a travesty of justice, so the Supreme Court has corrected that and has done proper justice for development of cricket."
Joint Secretary of Saurashtra Cricket Association (SCA) Madhukar Worah also thanked the apex court for granting his association the full membership of the board.
"It is welcoming to keep the full membership in BCCI. We are thankful to the Supreme Court," said Worah.
Similarly, the Baroda Cricket Association (BCA) secretary in-charge Snehal Parikh too welcomed the SC order.
"This is amazing. It's an acknowledgement of the contribution. Baroda has contributed so many players and this a recognition of the contribution of Baroda to Indian cricket," Parikh said.
Meanwhile, former secretary of BCCI and Saurashtra Cricket Association (SCA) Niranjan Shah also welcomed the order saying it will help the state cricket body to develop the game.
"It is gratifying that Hon'ble Supreme Court on Thursday has kindly considered prayer of SCA on removing stipulation of the condition of one state one vote," Shah was quoted as saying in a media statement.
"This will enable SCA to continue its voice for the growth, development and significant contribution to national and international cricket," said Shah.
The Mumbai Cricket Association termed the order "historic" and expressed happiness over getting the vote back in the board.
"We are thankful to the Supreme Court for restoring our voting right. Mumbai has a rich cricketing legacy and its nice to get our vote back. It is a historical judgement," MCA Joint Secretary Prof Dr Unmesh Khanvilkar said.