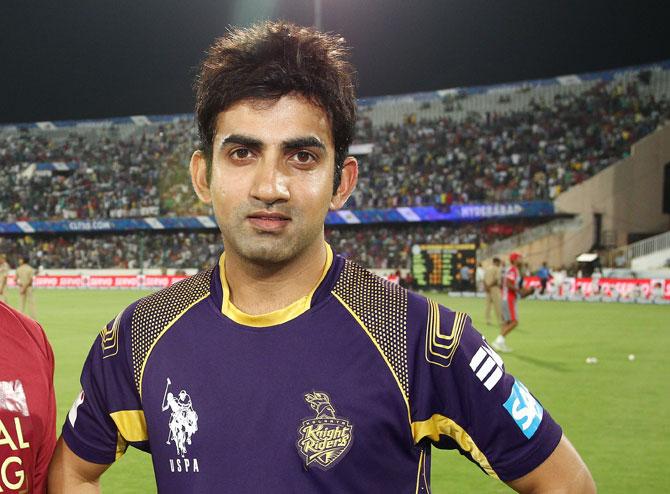 Kolkata Knight Riders captain Gautam Gambhir. Photograph: BCCI
Kolkata Knight Riders captain Gautam Gambhir has attributed his side's splendid run in the Champions League Twenty20 to collective effort, saying that his team has done well in all departments of the game en route to the final.
"We need to really play well against a quality side. We cannot just say that it was our bowling. It was batting as well. It was a slow wicket. So, it was a well-planned chase to be honest," he said after KKR thrashed Hobart Hurricanes by seven wickets to enter the final.
"Winning continuously and winning on such kind of a sphere, you need to play well as a team. You cannot just say it went on one department. In that sense, I think we have done pretty well," he said. Gambhir praised veteran Jacques Kallis who hit an unbeaten 54 to guide the team to victory in the semifinals.
"Pretty important. Especially, when it comes to games like these where we are chasing 140, 145, we want someone who can anchor the innings and he has done that brilliantly throughout his career. His experience has always been useful for the young guys. He has been a great contributor for us,"
he said.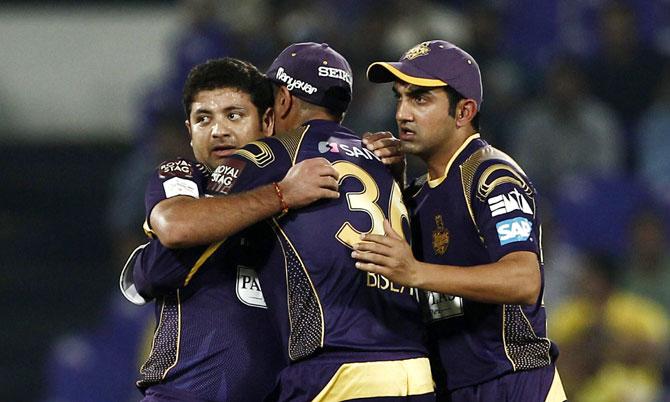 Kolkata Knight Riders captain Gautam Gambhir congratulates Piyush Chawla on taking a wicket. Photograph: BCCI
He said the team remained focused on doing well in each match.
"The only reason for such a kind of a streak is we have not spoken about it in dressing room. That shows the character of the team as well that there is no complacency and you don't discuss that we have 14 wins on the trot and that kind of stuff. You go on to the field thinking that you have to win
each and every game and that is what I think determination is all about.
"Before the start of the tournament, I said a lot of guys who have not done well in this competition, to go out there and prove themselves. There are lot of determined characters in the dressing room as well.
"The hunger is still there rather than thinking what we have done in the last 14 games. Important thing is keep looking forward and take each game as it comes," he said.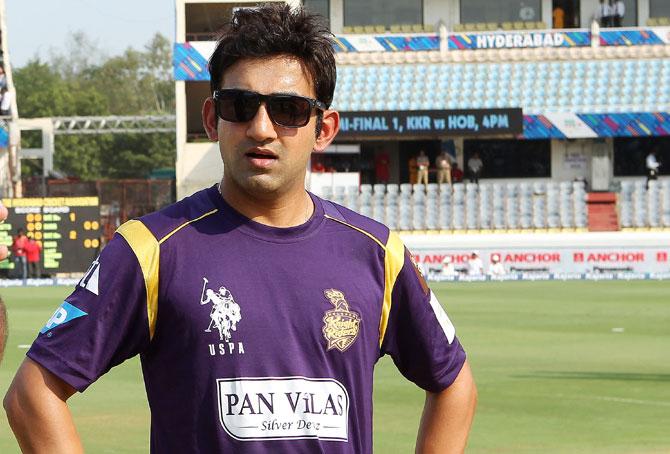 Kolkata Knight Riders captain Gautam Gambhir. Photograph: BCCI
Replying to a query on relying heavily on spinners, Gambhir said the important thing was to make the optimum use of the resources.
"I think that's our strength (spin). It does not matter whether we bowl 16 of 20 or 20 out of 20 all with spinners. The important point is what kind of quality you have and you got to use it to the best of our ability. We got three quality spinners and Yusuf is doing a great job. Important point is
to use the quality," he said.
Asked if the team would continue with the spin-heavy strategy in the final to be played in Bangalore, he said he should first see the wicket.
"I have not thought about it. I have not seen the wicket. I have not seen the conditions. So, don't know. We don't know what we are going to do in Bangalore. Let's see the surface."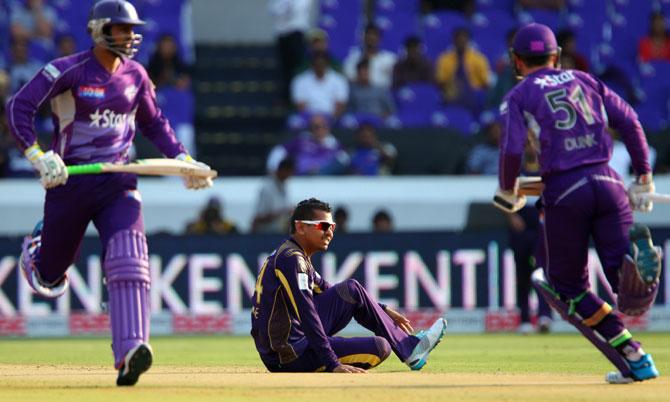 Kolkata Knight Riders spinner Sunil Narine. Photograph: BCCI
He said the entire team was behind Sunil Narine who has been reported for suspected illegal bowling action in a recent match.
"He (Narine) is a pretty mentally tough character. So, obviously as I said the entire team is behind him.
"He is pretty relaxed and that shows the character of the man as well. Coming into this game, whatever pressure, he delivered it again for us," Gambhir said.