Kings XI Punjab opener Virender Sehwag. Photograph: BCCI
Senior batsman Virender Sehwag was full of praise for his young opening partner Manan Vohra, whose 32-ball-65 set the tone for an emphatic victory. In fact Sehwag said that he wanted to present Manan, with one of his bats had he scored a century.
"I offered to give Manan my bat if he could score a hundred. Unfortunately he couldn't," said a smiling Sehwag, who did not have too many charitable things to say about the Mohali pitch.
"It wasn't a pretty good wicket for T20. It was stopping and gripping and turning and as a batsman you will stop and think whether you want to go for your shots.
"But credit to our batting side. They were chasing 216, they had to go after the bowling and but we had two good spinners," said Sehwag.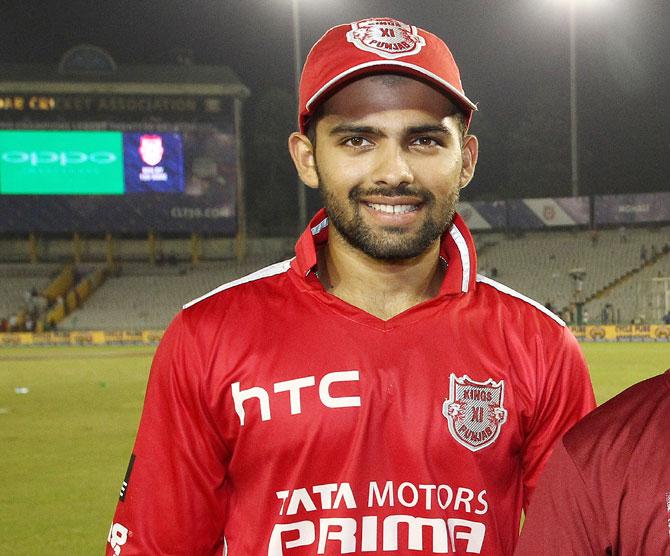 Kings XI Punjab opener Manan Vohra. Photograph: BCCI
Vohra, on his part said,"It was a good day for me, I was hitting the ball well and I thought I could carry on." What was his reaction when Sehwag told him that he would present him with one of his bats, Vohra said,"I told him I was waiting for it, but I miscued a short ball. More patience, more consolidation, more singles which I'm not doing right now."
KXIP skipper George Bailey said,"I was keen to bat, for the reasons we say. The other night against Tridents in our second innings, the ball just started to turn and there wasn't as much dew."
"It could make some doubts in the batting order and we thought we could ride that through. Manan's innings was outstanding. Viru as well. Really pleased with the bowling.
"Especially with Karanveer, who didn't get as much time in the early overs. And the fielding was good too. It was a little electric out there," the skipper said.