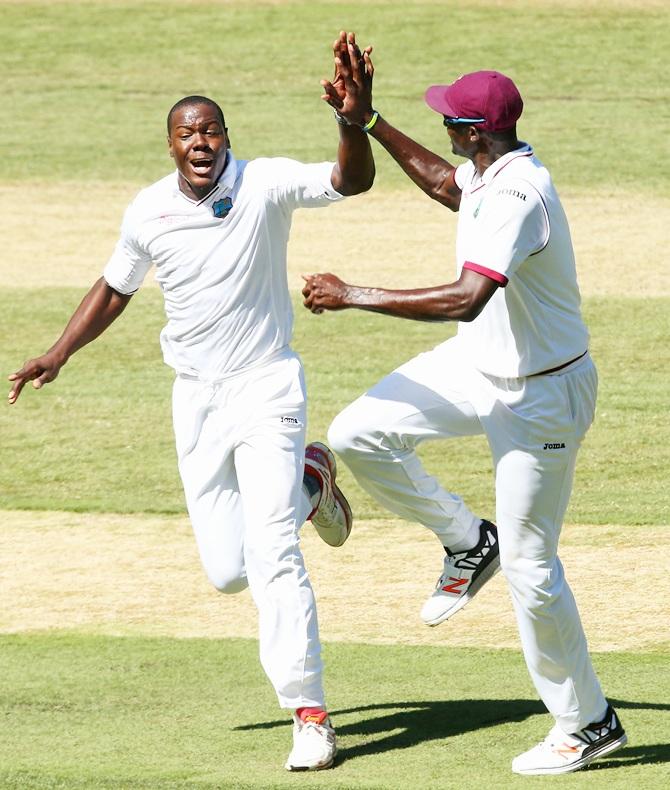 Image: Carlos Brathwaite of the West Indies after getting the wicket of David Warner during the second Test against Australia. Photograph: Quinn Rooney/Getty Images
The Indian Premier League auction is known to spring surprises, with little known players hitting a jackpot and becoming millionaires at one go. Rediff.com takes a look at some of the buys ahead of the ninth edition that left most surprised.
Carlos Brathwaite (Rs 4.2 cr): Without doubt the biggest surprise. The Caribbean all-rounder has shown his hitting talent during his heroics the series against Sri Lanka, batting lower down the order.
But not many would have expected Delhi to roll out a whopping 4.2 crore, which is 14 times his base price.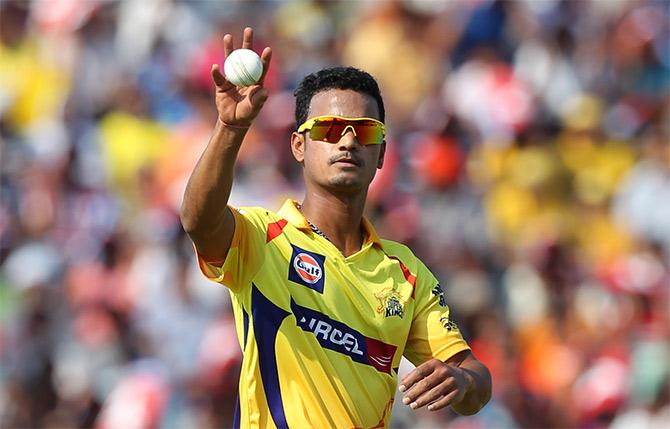 IMAGE: Pawan Negi in action during an Indian Premier League match. Photograph: BCCI
Pawan Negi (Rs 8.5 cr): The new million dollar man! After his selection for the World T20 squad, here came another good news for Pawan Negi.
It was Delhi again, that snapped the all-rounder for a monstrous Rs 8.5 crore.
In two days, the spinner was celebrating twice over.
Murugan Ashwin (Rs 4.5 cr): The Tamil Nadu leg-spinner emerged as the biggest gainer among uncapped players. The 25-year-old was rewarded for his splendid show in the Syed Mushtaq Ali Trophy - 10 wickets in six games (@ 12.70).
Pune's Ravichandran Ashwin will now have company in his statemate, after the newly-launched franchise dished out a noteworthy 4.5 crore for the latter.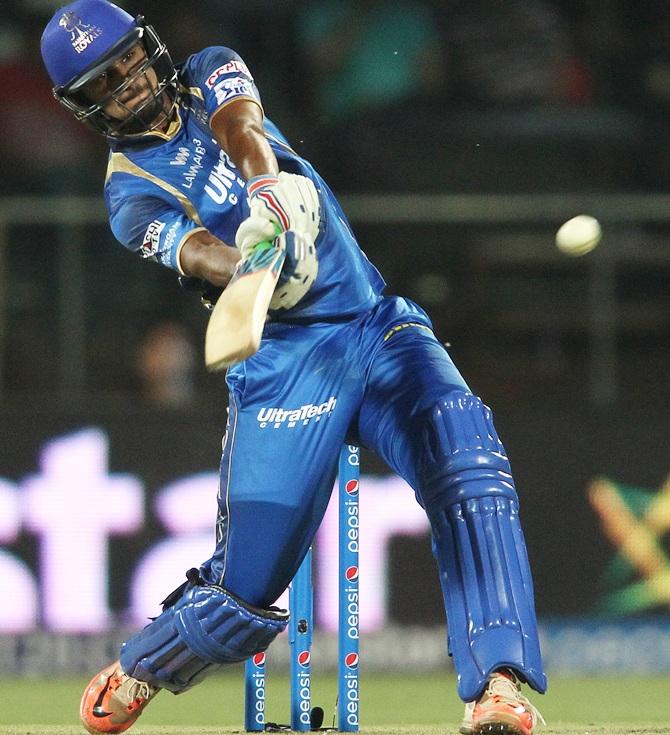 IMAGE: Deepak Hooda hits a six while playing for Rajasthan Royals in the 2015 edition. Photograph: BCCI
Deepak Hooda (Rs 4.2 cr): The Baroda all-rounder's price went up from Rs 10 lakh to Rs 4.2 crore, the Sunrisers securing his services after long rounds of bidding.
An ultra-aggressive lower-order batsman, Hooda had impressed with a stellar strike-rate (150) for the now suspended Rajasthan Royals in last season.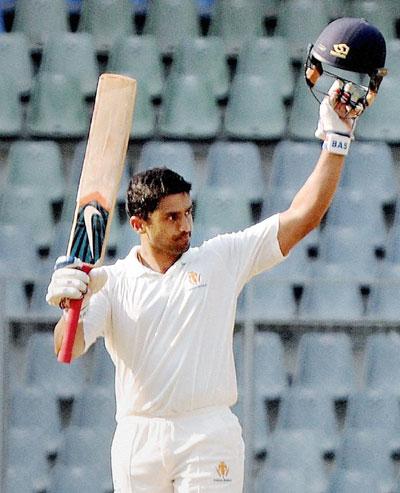 Image: Karanataka's Karun Nair celebrates his triple century against Tamil Nadu in the Ranji Trophy final.Photograph: PTI
Karun Nair (Rs 4 cr): The Karnataka batsman was expected to be one of the big buys among the uncapped players.
An intense bidding between Delhi, Pune and Rajkot saw his price jump to Rs 4 crore, as against a base price of Rs 10 lakh.
Another 4 crore bid! Can Delhi win their maiden title with these surprise signings?
Krunal Pandya (Rs 2 cr): Hardik Pandya was retained at his base price (Rs 10 lakh). However, Mumbai Indians ensured there will be a sibling rivalry within their camp by paying 20 times over to acquire the services of his brother, Krunal.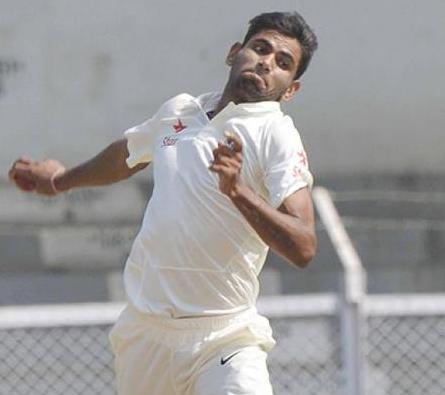 IMAGE: Fast bowler Nathu Singh in action domestic cricket. Photograph: BCCI
Nathu Singh (Rs 1.9 cr): The guy with the 'spark' as described by national selector Sandeep Patil, Nathu Singh earned big, getting Rs 3.2 crore from Mumbai Indians, against a base price of Rs 10 lakh.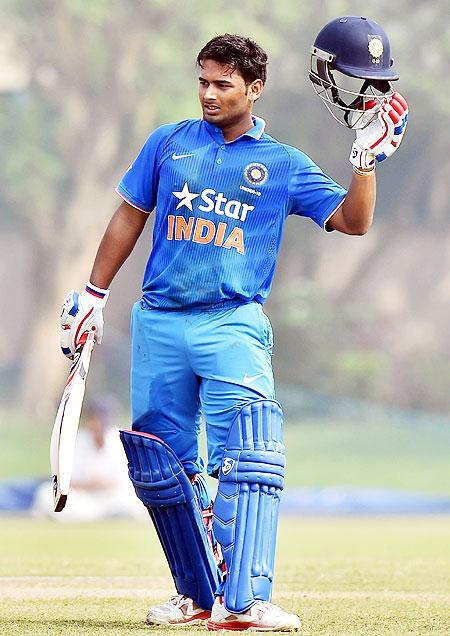 IMAGE: File picture of India's Under-19 cricketer Rishabh Pant. Photograph: Ashok Bhaumik/PTI
Rishabh Pant (1.9 cr): It was a super Saturday for Pant as he followed his match-winning century in the U-19 World Cup with a Rs 1.9 crore IPL deal with the Delhi Daredevils. Are Delhi fans excited?
KP Kamath (Rs 1.4 cr): From a base price of just Rs 10 lakh, this untested player commanded R 1.4 crore, Mumbai Indians investing in his young talent.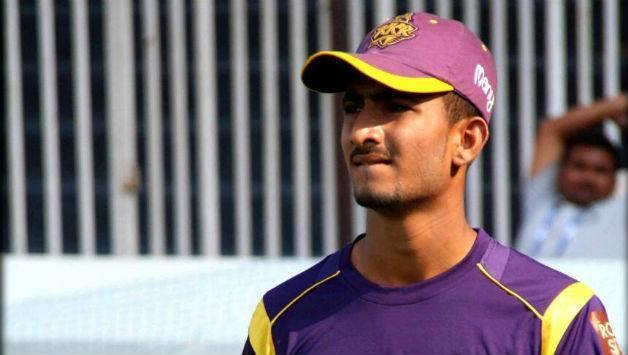 IMAGE:KC Kariappa in action for Kolkata Knight Riders in 2015 IPL. Photograph: BCCI.
KC Cariappa (Rs 80 lakh): The boy who amazed everyone last year by bagging a staggering Rs 2.4 crore. Despite not being able to make a mark in the Knight Riders' camp, the mystery spinner still managed to get Rs 80 lakh deal from Kings XI Punjab in the 2016 auctions.