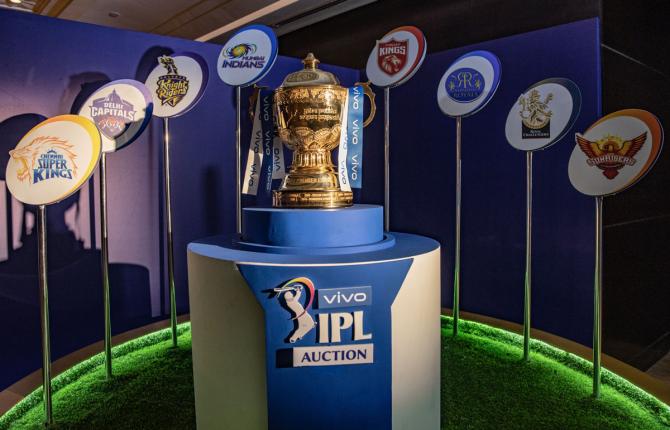 The 14th edition of the Indian Premier League will kick off in Chennai on April 9 and will be staged across six venues in India.
The world's most popular T20 league was shifted to the United Arab Emirates last year due to the COVID-19 outbreak in the country.
Defending champions Mumbai Indians will take on Royal Challengers Bangalore in the opening match in Chennai, with all the eight teams scheduled to play all their matches at neutral venues.
The world's largest cricket stadium -- the Narendra Modi Stadium in Ahmedabad -- will host the play-off matches as well as the May 30 final, with Bengaluru, Delhi, Mumbai and Kolkata being the other venues.
Each team is set to play at four venues during the league stage. Out of the 56 league matches, Chennai, Mumbai, Kolkata and Bengaluru will host 10 matches each while Ahmedabad and Delhi will host eight matches each.
The T20 league will be played without fans in the stadiums at least in the initial phase of the tournament.
Check out the complete IPL schedule:
Match Day
Match No
Day and Date
Time
Venue
Home
Away
1
1
FRI 9-APR-21
7:30 PM
CHENNAI
MUMBAI INDIANS
ROYAL CHALLENGERS BANGALORE
2
2
SAT 10-APR-21
7:30 PM
MUMBAI
CHENNAI SUPER KINGS
DELHI CAPITALS
3
3
SUN 11-APR-21
7:30 PM
CHENNAI
SUNRISERS HYDERABAD
KOLKATA KNIGHT RIDERS
4
4
MON 12-APR-21
7:30 PM
MUMBAI
RAJASTHAN ROYALS
PUNJAB KINGS
5
5
TUE 13-APR-21
7:30 PM
CHENNAI
KOLKATA KNIGHT RIDERS
MUMBAI INDIANS
6
6
WED 14-APR-21
7:30 PM
CHENNAI
SUNRISERS HYDERABAD
ROYAL CHALLENGERS BANGALORE
7
7
THU 15-APR-21
7:30 PM
MUMBAi
RAJASTHAN ROYALS
DELHI CAPITALS
8
8
FRI 16-APR-21
7:30 PM
MUMBAi
PUNJAB KINGS
CHENNAI SUPER KINGS
9
9
SAT 17-APR-21
7:30 PM
CHENNAI
MUMBAI INDIANS
SUNRISERS HYDERABAD
10
10
SUN 18-APR-21
3:30 PM
CHENNAI
ROYAL CHALLENGERS BANGALORE
KOLKATA KNIGHT RIDERS
10
11
SUN 18-APR-21
7:30 PM
MUMBAI
DELHI CAPITALS
PUNJAB KINGS
11
12
MON 19-APR-21
7:30 PM
MUMBAI
CHENNAI SUPER KINGS
RAJASTHAN ROYALS
12
13
TUE 20-APR-21
7:30 PM
CHENNAI
DELHI CAPITALS
MUMBAI INDIANS
13
14
WED 21-APR-21
3:30 PM
CHENNAI
PUNJAB KINGS
SUNRISERS HYDERABAD
13
15
WED 21-APR-21
7:30 PM
MUMBAI
KOLKATA KNIGHT RIDERS
CHENNAI SUPER KINGS
14
16
THU 22-APR-21
7:30 PM
MUMBAI
ROYAL CHALLENGERS BANGALORE
RAJASTHAN ROYALS
15
17
FRI 23-APR-21
7:30 PM
CHENNAI
PUNJAB KINGS
MUMBAI INDIANS
16
18
SAT 24-APR-21
7:30 PM
MUMBAI
RAJASTHAN ROYALS
KOLKATA KNIGHT RIDERS
17
19
SUN 25-APR-21
3:30 PM
MUMBAI
CHENNAI SUPER KINGS
ROYAL CHALLENGERS BANGALORE
17
20
SUN 25-APR-21
7:30 PM
CHENNAI
SUNRISERS HYDERABAD
DELHI CAPITALS
18
21
MON 26-APR-21
7:30 PM
AHMEDABAD
PUNJAB KINGS
KOLKATA KNIGHT RIDERS
19
22
TUE 27-APR-21
7:30 PM
AHMEDABAD
DELHI CAPITALS
ROYAL CHALLENGERS BANGALORE
20
23
WED 28-APR-21
7:30 PM
DELHI
CHENNAI SUPER KINGS
SUNRISERS HYDERABAD
21
24
THU 29-APR-21
3:30 PM
DELHI
MUMBAI INDIANS
RAJASTHAN ROYALS
21
25
THU 29-APR-21
7:30 PM
AHMEDABAD
DELHI CAPITALS
KOLKATA KNIGHT RIDERS
22
26
FRI 30-APR-21
7:30 PM
AHMEDABAD
PUNJAB KINGS
ROYAL CHALLENGERS BANGALORE
23
27
SAT 1-MAY-21
7:30 PM
DELHI
MUMBAI INDIANS
CHENNAI SUPER KINGS
24
28
SUN 2-MAY-21
3:30 PM
DELHI
RAJASTHAN ROYALS
SUNRISERS HYDERABAD
24
29
SUN 2-MAY-21
7:30 PM
AHMEDABAD
PUNJAB KINGS
DELHI CAPITALS
25
30
MON 3-MAY-21
7:30 PM
AHMEDABAD
KOLKATA KNIGHT RIDERS
ROYAL CHALLENGERS BANGALORE
26
31
TUE 4-MAY-21
7:30 PM
DELHI
SUNRISERS HYDERABAD
MUMBAI INDIANS
27
32
WED 5-MAY-21
7:30 PM
DELHI
RAJASTHAN ROYALS
CHENNAI SUPER KINGS
28
33
THU 6-MAY-21
7:30 PM
AHMEDABAD
ROYAL CHALLENGERS BANGALORE
PUNJAB KINGS
29
34
FRI 7-MAY-21
7:30 PM
DELHI
SUNRISERS HYDERABAD
CHENNAI SUPER KINGS
30
35
SAT 8-MAY-21
3:30 PM
AHMEDABAD
KOLKATA KNIGHT RIDERS
DELHI CAPITALS
30
36
SAT 8-MAY-21
7:30 PM
DELHI
RAJASTHAN ROYALS
MUMBAI INDIANS
31
37
SUN 9-MAY-21
3:30 PM
BANGALORE
CHENNAI SUPER KINGS
PUNJAB KINGS
31
38
SUN 9-MAY-21
7:30 PM
KOLKATA
ROYAL CHALLENGERS BANGALORE
SUNRISERS HYDERABAD
32
39
MON 10-MAY-21
7:30 PM
BANGALORE
MUMBAI INDIANS
KOLKATA KNIGHT RIDERS
33
40
TUE 11-MAY-21
7:30 PM
KOLKATA
DELHI CAPITALS
RAJASTHAN ROYALS
34
41
WED 12-MAY-21
7:30 PM
BANGALORE
CHENNAI SUPER KINGS
KOLKATA KNIGHT RIDERS
35
42
THU 13-MAY-21
3:30 PM
BANGALORE
MUMBAI INDIANS
PUNJAB KINGS
35
43
THU 13-MAY-21
7:30 PM
KOLKATA
SUNRIERS HYDERABAD
RAJASTHAN ROYALS
36
44
FRI 14-MAY-21
7:30 PM
KOLKATA
ROYAL CHALLENGERS BANGALORE
DELHI CAPITALS
37
45
SAT 15-MAY-21
7:30 PM
BANGALORE
KOLKATA KNIGHT RIDERS
PUNJAB KINGS
38
46
SUN 16-MAY-21
3:30 PM
KOLKATA
RAJASTHAN ROYALS
ROYAL CHALLENGERS BANGALORE
38
47
SUN 16-MAY-21
7:30 PM
BANGALORE
CHENNAI SUPER KINGS
MUMBAI INDIANS
39
48
MON 17-MAY-21
7:30 PM
KOLKATA
DELHI CAPITALS
SUNRISERS HYDERABAD
40
49
TUE 18-MAY-21
7:30 PM
BANGALORE
KOLKATA KNIGHT RIDERS
RAJASTHAN ROYALS
41
50
WED 19-MAY-21
7:30 PM
BANGALORE
SUNRISERS HYDERABAD
PUNJAB KINGS
42
51
THU 20-MAY-21
7:30 PM
KOLKATA
ROYAL CHALLENGERS BANGALORE
MUMBAI INDIANS
43
52
FRI 21-MAY-21
3:30 PM
BANGALORE
KOLKATA KNIGHT RIDERS
SUNRISERS HYDERABAD
43
53
FRI 21-MAY-21
7:30 PM
KOLKATA
DELHI CAPITALS
CHENNAI SUPER KINGS
44
54
SAT 22-MAY-21
7:30 PM
BANGALORE
PUNJAB KINGS
RAJASTHAN ROYALS
45
55
SUN 23-MAY-21
3:30 PM
KOLKATA
MUMBAI INDIANS
DELHI CAPITALS
45
56
SUN 23-MAY-21
7:30 PM
KOLKATA
ROYAL CHALLENGERS BANGALORE
CHENNAI SUPER KINGS
47
57
TUE 25-MAY-21
7:30 PM
AHMEDABAD
QUALIFIER 1
48
58
WED 26-MAY-21
7:30 PM
AHMEDABAD
ELIMINATOR
50
59
FRI 28-MAY-21
7:30 PM
AHMEDABAD
QUALIFIER 2
52
60
SUN 30-MAY-21
7:30 PM
AHMEDABAD
FINAL