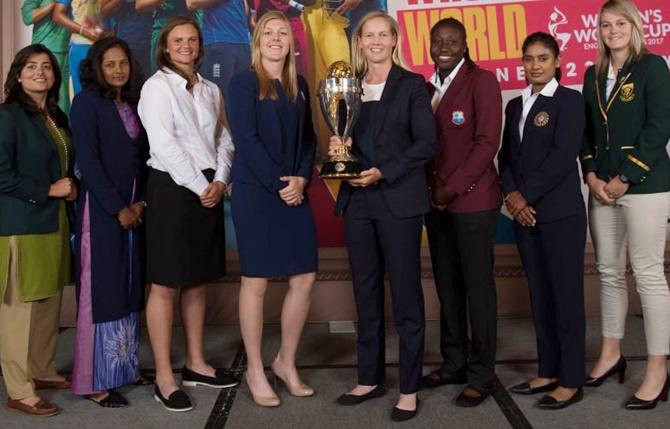 IMAGE: ICC Women's captains with the World Cup trophy. Photograph: ICC/Twitter
International Cricket Council on Saturday announced the ICC Women's World Cup will be the first global sports event to launch special Twitter emojis for captains as part of an unprecedented level of digital coverage for the women's game.
The ICC Women's World Cup, which got underway in Derby with host England taking on India in the first game, will be the first global women's event where captain's emojis can be unlocked by hash-tagging the player's name.
There's also a #WW17 trophy emoji and gif that has been launched as part of the ICC's ongoing partnership with Twitter that has been instrumental in bringing cricket fans closer to players.
The ICC will also host live social Q&As with commentators, players and other special guests throughout the tournament and continue the highly successful #AskCaptain initiative, providing thousands of fans with a direct line to interact with the winning captains.
The ICC Women's World Cup will also see its first ever fantasy game which allows fans to create their own leagues and compete against each other in the classic offering or the daily 'Super 6' game.
And on Facebook, fans will continue to enjoy Facebook Lives by players and commentators, providing insight into live matches and a behind the scenes look at the event.
ICC Head of Media Rights, Broadcast and Digital Aarti Dabas said: "We believe women's cricket offers the sport its biggest growth opportunity and this edition of the ICC Women's World Cup will be a turning point in the women's game.
"As well as all 31 games being broadcast live for the first time, highlights clips will be uploaded to the ICC Women's World Cup website and app within minutes of them happening, meaning fans around the world don't miss out on anything.
"We've teamed up with Twitter to help fans discover and stay in touch with the accounts of our sport's biggest superstars."
The ICC will seek to captialise on the success of the ICC Champions Trophy in the digital space, which saw more than 8 million unique website views, 10 million lifetime app downloads, 175 million video views and 2.57 million new followers across its social channels.
Both the ICC app and website will be focused on the ICC Women's World Cup and will provide around the-clock-coverage, including the expanded Live match centre with the fastest scores, live match blogs and commentary and highlights clips of the pinnacle women's event over the next four weeks.