'It is unfair to bring down other team members by thinking that India's chances depends only on him (Kohli)'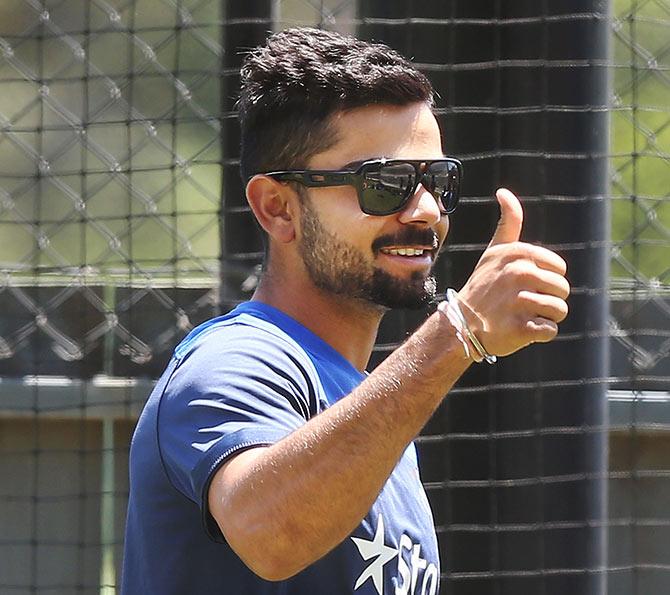 IMAGE: Virat Kohli gestures during an India training session. Photograph: Michael Dodge/Getty Images.
Virat Kohli's form is not a cause of concern as India's fortune at the upcoming Champions Trophy doesn't depend solely on the Indian skipper, feels 1983 World Cup winning captain Kapil Dev.
Kohli has not been amongst the runs in the ongoing Indian Premier League, ahead of the Champions Trophy beginning in England in the first week of June.
To a question if Kohli's form will affect India's chances at the prestigious ODI tournament, Kapil said: "Have you seen the Test match against Australia at Dharamsala? Everybody had said that if Kohli doesn't play then India will lose. But we all know what happened.
"It is unfair to bring down other team members by thinking that India's chances depends only on him.
"Kohli is an important member of the team, he is a big player and he knows how to play and when to play," added the 58-year-old former all-rounder.
Kapil, whose wax figure was unveiled by Madame Tussauds Delhi, said India definitely have the ability but it depends on how they execute their plans during the event.
"I think they are looking good. Indian team have been playing well for last five years but it depends on how well they apply themselves on that day. We definitely have the capability to win. But how they maintain themselves and put pressure on opponent that will be the key," Kapil said.
Asked if he thinks any particular bowler could be the key to India's chances in England, Kapil said: "It is not about one bowler, it is the team that wins. Someone can be the lead bowler but all have to chip in collectively as a team, only then they will have more chances of winning.
"I think the young kids today have more passion perhaps more than us, we were amateurs but they are professionals."
India selectors have gone for experience instead of going for youngsters who did well in the IPL.
Asked for his views on the selection of the Indian team for the Champions Trophy, Kapil said: "If they would have gone for a young team then you would have said why seniors were ignored.
"So it is unfair for me to criticise the selectors. They have done a good job. My opinion may be different but it is not my job to criticise them."
India still haven't found a bowling all-rounder like him and asked when the country will be able to produce another Kapil Dev, he said: "It is impossible. I wish 100 Kapil Devs who are better than me are produced in India.
"But it is not about having a fast bowling all-rounder. If you look at R Ashwin or Ravindra Jadeja, they have became good all-rounders for India. So I think we have enough all-rounders in our team."