An inspired Pakistan hammered a blundering India by 180 runs to lift the ICC Champions Trophy on Sunday.
Here's some of the memorable quotes.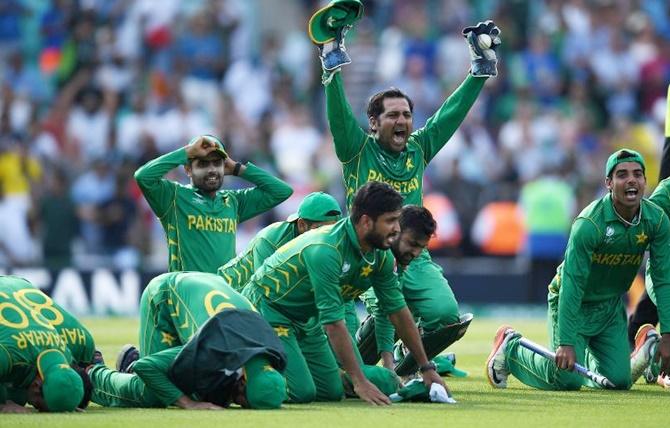 IMAGE: Pakistan's players celebrate after winning the ICC Champions Trophy. Photograph: ICC/Twitter
"When we came here, we were No 8. Now we are champions. Hopefully this will boost Pakistan cricket. Hopefully all countries will now visit Pakistan."
Sarfraz Ahmed (June 18) hopes winning the title will help Pakistan cricket in more ways than one.
"I think the pitch was very good. It was good for both teams. I think we played very well and that's why we won."
Sarfraz Ahmed (June 14) is very succinct in his appraisal of the pitch and how it influenced the result of the match.
"I know once you are ready mentally, anything can be possible."
Mashrafe Mortaza (June 15) chooses to dream about reaching bigger targets after Bangladesh's first ICC semi-final ended in defeat to India.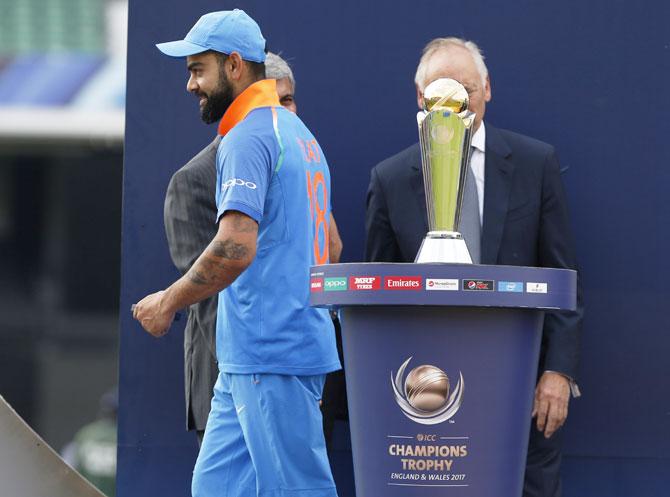 IMAGE: Virat Kohli after the game. Photograph: Paul Childs Livepic/Action Images via Reuters
"Credit to them, they've turned around things for themselves really well."
Virat Kohli (June 15) is a fan of how Pakistan have played in the tournament following their heavy loss to India in the group stage.
"We can make excuses, we can say the wicket was more favourable to Pakistan. Of course, when you're playing at home, you'd like to think conditions are going to be slightly favourable to you. But, you still have to play your best on a number of different surfaces if you are going to win a major tournament."
Joe Root (June 16) refuses to use the Cardiff pitch as an excuse for England's unexpected loss in the semi-final to Pakistan.
"It sort of feels surreal really, to be honest,"
Mickey Arthur (June 18) is on another plane after Pakistan's comprehensive 180-run win over India in the final.
"Our physio, Shane Hayes, was with me the whole night. I said to him, 'I can't play tomorrow,' but he gave me protein and glucose tablets and said 'You will play tomorrow'."
Fakhar Zaman (June 18) recounts how his maiden ODI century was very close to not happening if sickness had decided to lay him low.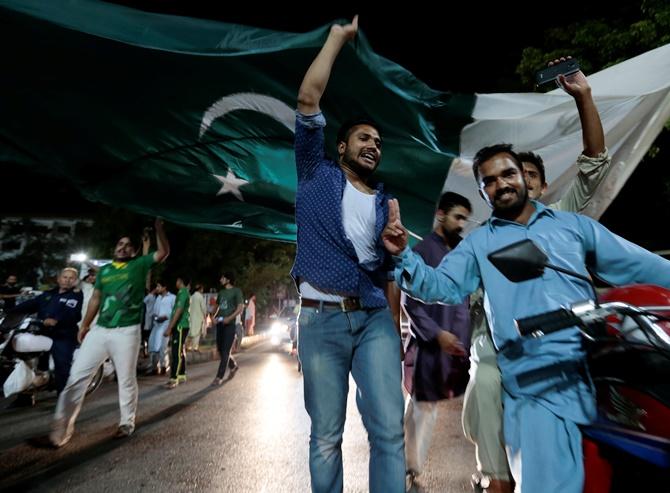 IMAGE: Pakistani cricket fans cheer after Pakistan defeated India in the Champions Trophy finals, in Lahore, Pakistan. All Photographs: Mohsin Raza/Reuters
"Back home I am sure the roads are blocked, people are out and they're dancing even though we have Ramadan."
Shoaib Malik (June 18) has a fair idea of how the celebrations are going on back in Pakistan after their title win.
"But I was the most relieved man after he got out the next ball."
Azhar Ali (June 18) reveals his heart-rate returned to normal when Virat Kohli was caught the next ball right after he had dropped him in the final.
"We can be very proud of that as a unit, and we leave here with our heads held high because we understand the kind of expectations and pressures we face as a team"
Virat Kohli (June 18) is delighted with India's run despite losing the final, which they entered as favourites.