England and Middlesex middle-order batsman Owais Shah has vowed to stay with his carefree attitude for the rest of the Champions Trophy tournament.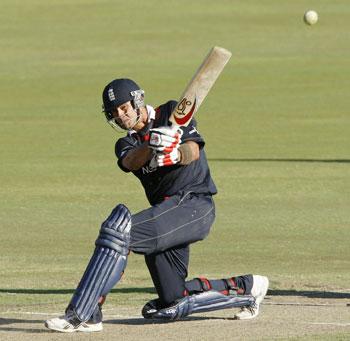 Shah has said that the team couldn't have done any worse in the one-day series thumping against Australia - and having hit rock bottom, the only solution was to throw caution to the winds.
That is exactly what Shah, Paul Collingwood and Eoin Morgan have done in the tournament and it has paid off in spades, with Lady Luck now smiling on them rather than kicking them when they were down.
"It is all about state of mind," The Mirror quoted Shah, 30, as saying as he prepared for their final group game against New Zealand.
He added: "Sure, we got thrashed by Australia 6-1 and when you are quite low in confidence, you start a tournament like that and you have nothing to lose. You can play with freedom and you can be dangerous when you play like that. You don't worry about the opposition, you say ''Let's express ourselves''.
"The England team is a very dangerous place at the moment. As a batting unit, we are definitely - like Straussy said - not going to die wondering,"  he added.
Shah couldn't sleep after Denly incident
Meanwhile, Shah recalls not being able to sleep after he put opener Joe Denly into hospital with a football tackle during practice.
Shah, who was severely reprimanded by his skipper Andrew Strauss, after the incident, is now cricket's new big-hitting star.
Shah embodies England's incredible turnaround in the Champions Trophy in the past few days, reports The Sun.
He plundered six sixes in a brilliant innings of 98 on Sunday against South Africa as England qualified for the semi-finals.
The cricket world was stunned with the power and quality of his striking as England piled up 323-8 and dumped out the hosts.
During the 6-1 series defeat against Australia, Shah was mocked and vilified for his running, poor fielding, soft dismissals and putting Joe Denly in hospital during a warm-up football match.
"You'll probably find this hard to believe, but I struggled to sleep that night after the incident with Joe. I rang the physio and was very concerned I''d caused him serious harm especially as he was about to make his debut," Shah said.
"I literally clipped Joe's leg when we went for the ball together. He's fine now so I'm happy. It's been a difficult couple of weeks, hard to cope with. But I never doubted myself - if I did that there's no point in playing," he added.