Mumbai Indians' injury woes just grew in proportion as their opener Davy Jacobs has been ruled out of the Champions League Twenty20 because of a hip injury.
The South African wicket-keeper batsman picked up the injury while batting in the nets on Sunday when the side was preparing for Monday's match against Trinidad and Tobago.
Ambati Rayudu had kept the wickets in place of Jacobs in that match, which MI won by a narrow-margin of one wicket.
Mumbai Indians skipper Harbhajan Singh said the team was looking for Jacob's replacement.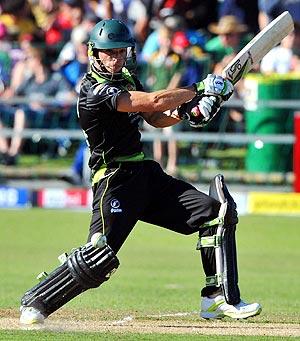 "I think our management is looking into the matter. We have to have another player in the side; we only have 13 players," Harbhajan said.
Mumbai Indians play their next match against Cape Cobras, in Bangalore, on Friday.
The IPL Franchisee has been struggling with injuries as many key players such as regular captain Sachin Tendulkar, Rohit Sharma and Munaf Patel are all out of competition due to their respective injuries.
Ali Murtaza, Dhawal Kulkarni, Suryakumar Yadav, Pawan Suyal and Aditya Tare are also in the list if injured and that's why MI have been allowed to play five foreign players instead of four.
With Jacob all set to fly back to South Africa, on Tuesday, Mumbai now have only six foreign players in their squad.
Harbhajan joked that they if players continued to get injured like this, they might have to rope in their support staff, full of former international players, to field a playing XI.
"Dhoni had a very tough time in England when the injury list was increasing, and we finished the tour with ten players [injured]; it gets very difficult for any captain. Dhoni was fighting alone there; hopefully it's not my turn now.
"If there are one or two more injuries, we don't know whether we will be able to put up a show. Might have to bring Jonty Rhodes in then, [Shaun] Pollock also and Robin Singh as well," he said.
Jacobs had emerged as second highest run-getter during the 2010 Champions League.