- Amla scored third Test double ton
- Van Zyl fifth South African to score a century on debut
- Proteas declare first innings on 552-5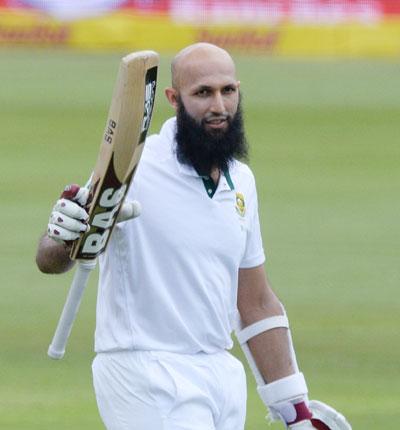 Hashim Amla's third double-ton for South Africa and Stiaan van Zyl's unbeaten century on debut against West Indies helped the hosts declare on 552 for five before rain brought an early end to day two of the first Test on Thursday.
A heavy downpour that started just after the Proteas' declaration some 30 minutes before tea meant no more play and an early 10am (0800 GMT) start on Friday.
It was a day to remember for Amla and Van Zyl, who are on opposite ends of spectrum in terms of test experience but can be equally pleased with their efforts in helping South Africa to their massive total.
Amla showed all of his famous powers of concentration and stamina to bat for almost eight hours in compiling 208 from 371 balls before he holed out to long-on off the bowling of left-arm spinner Suleiman Benn as the hosts tried to up the tempo.
The impressive Van Zyl, long tipped as an international cricketer, grabbed his moment by smashing 15 boundaries to end the innings on 101 not out from 130 balls.
He is the fifth South African to score a test hundred on debut, but his total is far short of the record set by Jacques Rudolph of 222 not out against Bangladesh in 2003.
The 27-year-old Van Zyl was nearly out first ball though as he tickled a leg-side delivery from Benn that fell just short of the leg slip.
He was then dropped on two by Kraigg Brathwaite in the same position off Benn again but after that he grew in confidence with every run scored.
The only other wicket to fall in another dominant day for South Africa was AB de Villiers, for 152, when he became a first victim in the Test for the luckless Benn when a thick outside edge was caught by Jermaine Blackwood at point.
His dismissal ended a record fourth-wicket stand in Tests for South Africa of 308, the partnership with Amla digging the side out of trouble on the first morning when the hosts lost three quick wickets to slip to 57-3.
West Indies' bowling attack toiled without their main weapon Kemar Roach, who is unlikely to feature again in the Test.
He limped off on day one and an MRI scan showed slight ligament damage but West Indies have said he will bowl in the second innings if needed.
Scorecard
South Africa (1st innings): (overnight 340 for 3)
A Petersen c Smith b Roach 27
D Elgar c Samuels b Cottrell 28
F du Plessis c Ramdin b Roach 0
H Amla c Taylor b Benn 208
AB de Villiers c Blackwood b Benn 152
S van Zyl not out 101
Q de Kock not out 18
Extras: (B-8, LB-6, NB-2, W-2) 18
Total: (For 5 wkts decl; 140.3 overs) 552
Fall of wickets: 1-57, 2-57, 3-57, 4-365, 5-520.
Bowling: Taylor 26.1-5-108-0, Cottrell 28-1-124-1, Roach 15.5-4-52-2, Benn 46-7-148-2, Samuels 20-0-89-0, Brathwaite 1-0-2-0, Blackwood 3.3-0-15-0.
Image: Hashim Amla of South Africa celebrates his 200 during day 2 of the 1st Test match against West Indies at SuperSport Park.
Photo: Duif du Toit/Gallo Images