Reader Varinder Singh sent us this picture.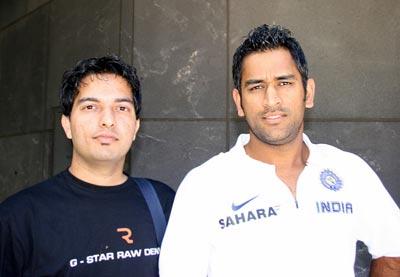 'I caught Dhoni in my camera as well.He is a cool dude as well as a sincere person. We had a chat for some time and came to know the fact that his father never wanted him to be a cricketer. He wanted him to work in the fields only. But Dhoni had something different in his mind and he tried his best to get his ability and aggressiveness to play cricket recognised,' writes Varinder.
'I was astonished to hear this unbelievable story from him. Anyways, in short, I came to know that he is a hard worker... and may God bless him with all that he wants.'
Thank you, Varinder, for sending this photograph!
If you encounter your favourite cricket/sports personalities, please mail the photograph or video to sportsdesk@rediff.co.in. We will feature the best images or videos right here on Rediff Cricket or Rediff Sports.