Last week, we launched a new feature where we post images of world sportsmen contributed by readers.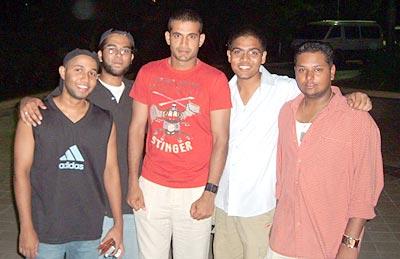 If you encounter/meet/see cricketers or sports personalities and photograph them, please scan the photographs and mail the pictures to us. We will feature the best images right here on Cricket or Rediff Sports.
Reader Riyaz Ahmed, who sent us this photograph, wrote: 'Hi, this is riyaz ahmed....im a student in the caribbean islands....im studying medicine...we met the whole indian team when they were on the west indies tour....they came to our island for the 3rd one day.....we're students at Windsor University School Of Medicine.
left-right: Rahul, Shariq, Irfan, Riyaz, Taseen
thnx for giving the opportunity to share the pics....
bye...'
So rush those photographs to us!
Earlier:
Martin Damm with Babji | Sania in New York | Vikram meets Shane | When Rajath met Aravinda | Sandip meets 'God'