The Cricket Club of India will honour senior batsman Sachin Tendulkar as part of its 75th anniversary celebrations at its famous Brabourne stadium in Mumbai.
Board of Control for Cricket in India president N Srinivasan will be the chief guest as CCI honours the "First Citizen of the World of Cricket", read a statement to the media.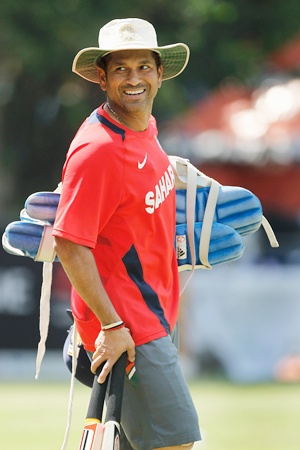 Visiting England team captain Alastair Cook, team director Andy Flower and batting coach Graham Gooch, among others, will be present on the occasion.
Tendulkar has fond memories of the club, which changed its rules to allow the then 14-year-old cricketer to use its dressing room when he featured in local cricket tournaments in the late 1980s.
The CCI is an affiliated member of the BCCI but does not take part in the Ranji Trophy tournament.
The Brabourne stadium was a regular Test venue in Mumbai before all the international cricket matches were shifted to the nearby Wankhede stadium in the mid-1970s, following a long-standing seat-sharing dispute between the club and the Mumbai Cricket Association.
When the Wankhede was undergoing renovation before the 2011 World Cup and was unavailable to host matches, Test cricket returned to the Brabourne, albeit for just one game, when India played against Sri Lanka in December 2009.
Photograph: Daniel Berehulak/Getty Images