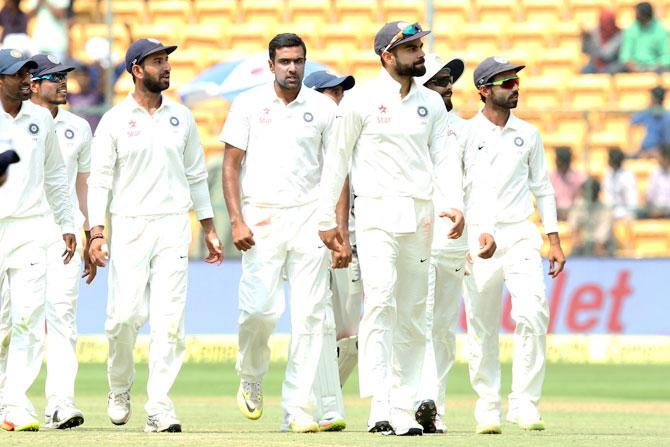 IMAGE: Sunil Gavaskar credited Virat Kohli for using his bowlers well and terming his field-placing spot on. Photograph: BCCI
India did well to bounce back on Day 4 to edge Australia by 75 runs in the 2nd Test in Bengaluru on Tuesday and level the series 1-1.
And former India captain Sunil Gavaskar was all praise of Kohli's captaincy during the Australian second innings.
"Virat's captaincy was brilliant in Australia's second innings. In the first innings, his captaincy was a lot to be desired like in the bowling changes he made. But in the second innings he was spot on. I will give him 10 out of 10," he told NDTV.
"This time (in the Australian second innings) Virat used the opening bowlers in short spells and he kept R Ashwin at one end. His field placing were also spot on," said the former captain.
Talking about the performance of the Indian players, Gavaskar said, "The Test had all the ingredients to be considered as a very, very good one. It was a gripping contest. The bowlers bowled well, there were runs from the batsmen and fielding was also quite good. Wicket-keeping of Wriddhiman Saha was first class. It was also a very good result for India.
"It was a brilliant fight back by the Indians. India conceded a first innings lead of 87 runs which was very big lead under the circumstances. The 100-plus run partnership between Pujara and Rahane was the crucial one and they gave India the extra runs. Of course, India added not many runs today. I think they were overconfident today and they should not do that again," he said.
On the performance of R Ashwin who took 6/41 in the second innings, Gavaskar said, "It's full credit to Ashwin. I thought he was worked up in the first innings and he was seen rushing through overs. However, in the Australian second innings, he took time in between deliveries and he was fantastic."
Gavaskar said the turning point of the match was the dismissal of Australian captain Steve Smith.
He said the middle order of the visiting side was a bit vulnerable with too much dependence of Smith and felt that Mitchell Marsh's spot in the Australian eleven could be under danger.