'I look to make a comeback in the Indian team,' Shanthakumaran Sreesanth tells Rediff.com's Harish Kotian.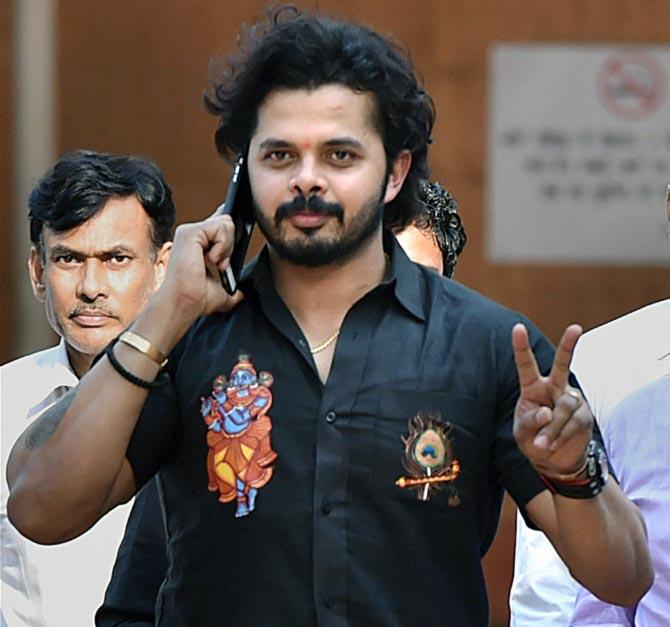 IMAGE: Shanthakumaran Sreesanth. Photograph: PTI
Former India pacer Shanthakumaran Sreesanth was relieved after the Kerala high court on Monday, August 7, ordered the Board of Control for Cricket in India to lift the life ban imposed on the cricketer following the spot-fixing scandal in the sixth edition of the Indian Premier League in 2013.
"I thank God, I also thank the Kerala high court for giving this judgment. I have always believed in the judiciary. I waited patiently and it was evident that I didn't do anything like that," Sreesanth said.
"I am free and eagerly waiting to start my cricketing career."
"I have to make sure that I perform better than I used to do and get back in the team where I belong," Sreesanth told Rediff.com soon after the judgment was pronounced.
Sreesanth along with his Rajasthan Royals team-mate Ankeet Chavan was banned for life for their alleged role in the spot-fixing scandal.
He was subsequently cleared of all charges by a Delhi court in 2015. However, his plea for a review of his life ban was rejected by the BCCI in April this year.
The 34-year-old fast bowler filed a petition in the Kerala high court challenging the life ban, stating that it violated his Constitutional rights.
He now hopes that the BCCI accepts the court verdict and lets him resume his cricketing career which has been on hold for the last four years.
"I have full faith in my ability and I am sure I will get the all clear from the BCCI and Kerala Cricket Association to start my career," Sreesanth said.
"I hope the ICC will also support me and I am allowed to play anywhere in the world. If I get a chance I would love to play county cricket and look to make a comeback in the Indian team," he added.
"My dad always says that tough people get going during tough times. My family, friends, my relatives, a lot of Malayalees around the world, not only Malayalees but all cricket fans around the world and the media supported me during the tough times," he said.
"I had faith in me and I used to always tell myself 'hang in there, don't worry'," Sreesanth, who contested the 2016 Kerala assembly election unsuccessfully on a Bharatiya Janata Party ticket, said.
"I am happy that I can start playing cricket again, that is the biggest thing for me."
IMAGE: Sreesanth celebrates a wicket during India's tour of England in 2011. Photograph: Stu Forster/Getty Images
Sreesanth played 27 Tests, 53 ODIs and 10 T20Is for India since making his international debut in 2015.
His ability to swing the ball at a good pace made him an automatic pick for India's Test matches outside the sub-continent.
As a result of the BCCI life ban, Sreesanth was not allowed to practice at any stadia recognised by the Board.
With the ban lifted he can't wait to get cracking.
"I might go this evening and start bowling," he said. "I really hope the Kerala Cricket Association fully supports me. I will call up the KCA president and ask him where I can practice and wherever they allow me I will practice."
"Now there is no restriction on me and I can start playing," he said.
"Movies and politics are part of Sreesanth's life," the cricketer, who also acted in a couple of movies, said, "but as I said 'Sreesanth was a cricketer and he will always be known as a cricketer'."
Sreesanth believes that in the next six months, he will ready to play at the highest level.
"I always believed that I needed six months to get back at the top. I have maintained my fitness and have been following up my cricket fitness routine."
"I wanted to make sure that whenever I get a call up even if it is a Test I should be ready to play and that is why I have kept myself fit. I will start playing Ranji Trophy for Kerala and I have to make sure that I start performing," he added.
"I am only 34. Legends like Sachin Paaji (Tendulkar), Rahulbhai (Dravid), Dada (Sourav Ganguly)... they all played for so many years and they are all my motivation."
"If someone like Misbah-ul Haq played till the age of 42, that is all motivation for me. It is just the start and I will take it step by step."
"Performance should not be a problem. I want to keep myself fit and be ready to play in this year's Ranji Trophy."
Sreesanth thanked some of his India team-mates, who he says kept in touch with him and supported him.
"I don't want to name them," he said. "Most of them, their hands were tied. I am happy that I waited patiently and they come out openly and support me."